Data Recovery Services in Irvine - RAID, SSD & Hard Drive Recovery
Since 2007, we have provided award-winning data recovery services to Irvine residents. Our data recovery experts have experience with all data loss scenarios, from corrupt drives to crashed servers. Our convenient location on Sky Park Circle in the Airport Business Center is west of MacArthur Boulevard.
Trust certified professionals for hard drive data recovery in Irvine. We offer complete peace of mind to customers with detailed, free diagnostics and a "No Data, No Recovery Fee" guarantee.
Our customers rate our services:
We Helped Thousands Get Their Lost Data Back.
With over 5,469 satisfied customers and growing, we are proud to provide outstanding customer experience and quality service that consistently exceed customer expectations.
View All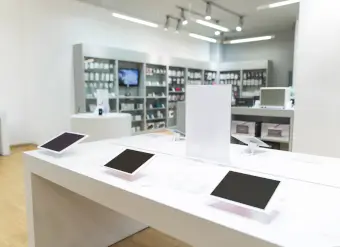 Secure Data Recovery Services
Emergency Services Available 24x7
Secure Data Recovery Near You
Need data recovery services in Irvine? With three additional stores throughout Orange County, we have a convenient location for you. Stop into our downtown Irvine store at 17875 Von Karman Avenue in the Irvine Business Complex, near Main Street, off Interstate 405. Visit our Fountain Valley store on Brookhurst Street in Callens Corner, a half mile north of the Reptile Zoo. Or you can find us at 26552 Moulton Parkway in Laguna Hills, just off California State Route 73, west of Aliso Creek.
Data recovery in Irvine is easier than ever. Call us or stop at one of our stores to learn more. We provide free consultations and estimates as part of our services.
Data Recovery Company in Irvine, CA
Secure Data Recovery Services are the Irvine hard drive recovery, SSD recovery and RAID recovery experts. Since 2007, our data recovery company has helped tens of thousands of individuals and businesses of all sizes in Irvine successfully recover from every type of data loss scenario imaginable. We have seen your failure type before and our team understands the importance of data in the modern world. We're ready to recover your lost data with our flexible Economy and Standard data recovery services, or immediately with our Emergency data recovery option.
Recovery Services We Offer
In addition to hard drive recovery and RAID recovery, we specialize in complex data loss solutions for SSD drives and other NAND-based flash memory devices, iPhone and Android smartphones and mobile devices, network-attached (NAS and SAN) storage systems, and virtual machines.
Irvine, CA Data Recovery Reviews
Schalon Newton
Reviewed on Sep 21, 2023 | Irvine, CA
Customer responsive service
I have previously used Secure Data and in each case I have been impressed with their professionalism and ability to recovery data in a timely manner. This time I had a corrupted personal hard drive that another computer service company was not optimistic about recovering. Scott McMaken was the customer rep that handled my case and within a couple of hours I dropped off my drive at a convenient l... Read Moreocal location. The next day I had a report on the drive with an assessment that they would probably be able to recover most of my data. To my amazement and relief they were able to recover all but 13 files on a 4tb hard drive. Scott was responsive to my questions during the process and I am more than happy to recommend this firm to anyone with storage issues. Above and beyond professionalism and customer responsive, which is very reassuring when your important data may be forever gone. Highly recommended.
Alex Thomas
Reviewed on Jul 18, 2023 | Artesia, CA
Secure data service helped me with the recovery of my external hard disk and they have good customer service and they are experts in their field. Thank you
Jeff Fichtner
Reviewed on Jun 15, 2023 | Newport Beach, CA
Great service, 100% recovered.
Super helpful and knowledgeable. When I asked technical questions they were more than informed and they always responded immediately with everything. They also reached out at every minute step of the process to let me know what was going on. Thanks team!
Zach Rivas
Reviewed on Jan 30, 2023 | Costa Mesa, CA
He was incredibly responsive, helpful and diligent. This was a very streamlined process and I am very grateful for him helping me get this done quickly. I would high recommend Elliot to anyone. It was perfect!
Sonny Brackens
Reviewed on Dec 07, 2022 | Pomona, CA
I would like to thank Secure Data Recovery for the recovery of my documents. I didn''t think that the documents could be recovered. I had taken my drive to a business and they said the information could not be retrieved. I started looking online for companies that do data recovery and I spoke with a few. However, the only one that made me feel comfortable was when I spoke with Jonathan N. He was s... Read Moreo confident that the data could be retrieved. He didn''t promise me anything but said that Secure Data Recovery was good at their job. He was confident that the data would be recovered. It took a couple of weeks, which was what was stated. I was so happy to receive the email about my 99% of my data being recovered. There was also a link with the recovered files listed. This is absolutely amazing. I am excited to receive the data by FedEx. A little bummed because it was supposed to be delivered today. Excitedly waiting for tomorrow! thanks again, Jonathan.
Mark Pike
Reviewed on Oct 14, 2022 | Irvine, CA
They followed up with me consistently and maintained patient and professional updates throughout. Everything was convenient. I am from Jamaica, and they awaited my visit to the US where I was able to drop off my drive easily, and have all my questions answered in fast response time. Elliot was great.
Why Choose Secure Data Recovery in Irvine?
Certified and Verified Secure
Transparent Process
Trusted and Guaranteed Results
Secure Data Recovery Services operates in world-class facilities that undergo regular SSAE 18 SOC 1, SOC 2, and SOC 3 audits to verify the integrity of all cybersecurity management control systems. This means that your data is protected at every stage of the recovery process.
Each of our Lab facilities also has a certified Class 10 ISO 4 cleanroom. This specialized environment provides state-of-the-art filtration to remove potentially harmful airborne particulates that could damage the sensitive internal components of storage devices.
For more than a decade, the engineers at Secure Data Recovery Services have built a reputation as the most reliable provider of professional data recovery in the industry. Our expert team maintains a documented 96% successful recovery rate.
We maintain partnerships with every major digital storage manufacturer to ensure our custom solutions never threaten any existing product warranties. We also invest heavily in research and development to keep pace with rapidly evolving digital storage technology.
Free Data Recovery Quote
We intimately understand all data loss scenarios and will exhaust all options technologically possible to reunite you with your lost data as quickly as possible. When you choose Secure Data Recovery Services, you get the most credentialed professionals in the industry.
Service times and exact pricing for a successful recovery always depend on the specific damage to the storage, which is why we offer free, no-risk diagnostics with every standard service.
Our quotes consist of:
Price for successful recovery
Time estimates for the job
Key information about the events that led to data loss
Call 949-596-4976 to speak to a data recovery expert 24x7 and schedule your free data recovery consultation with a no-obligation price quote.