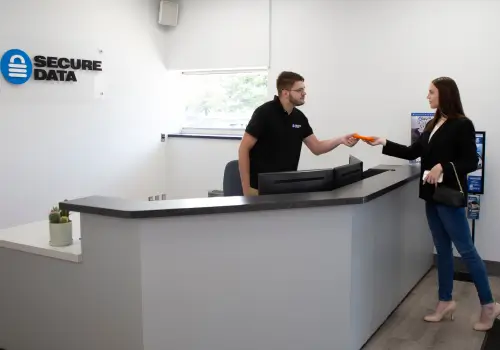 Data Recovery Services in Connecticut - RAID, SSD & Hard Drive Recovery
Secure Data Recovery Services provides advanced RAID repair, hard drive data recovery and other media services to the state of Connecticut through a local office in Hartford. As one of the world's premiere data companies, and one of the most dependable data recovery services in Connecticut, we have the equipment and expertise to treat any media failure scenario effectively.

Connecticut has a large concentration of IT businesses, and digital storage technology has played an important role in the state's growth. Unfortunately, no data storage technology provides perfect protection, and file loss affects thousands of Connecticut businesses and personal computer users each year. This is why for businesses in Connecticut, hard drive data recovery services are so crucial. Without a reliable company with a certified and professional team to recover data, Connecticut businesses are at risk of losing valuable and potentially irreplaceable data.
Expert Data Recovery Services
Secure Data Recovery Services is the authority in Hard Drive Recovery, SSD Recovery and RAID Recovery. Since 2007, our data recovery company has helped tens of thousands of individuals and businesses of all sizes successfully recover from every type of data loss scenario. We understand the importance of data in the modern world and with our Economy, Standard and Emergency Data Recovery Options and state-of-the art technology we are ready to get your lost data back right now.
Experience total piece of mind with a "No Data, No Recovery Fee" Guarantee.
Recovery Services We Offer
Secure Data Recovery Services provides Connecticut with a professional source for media recovery and data repair. We offer diagnostics free of charge to give our clients easy access to accurate pricing and turnaround information. In addition, our no recovery, no charge guarantee eliminates unnecessary risks to businesses that use data recovery and other recovery services.
As Connecticut's most qualified provider, we offer safe, secure services for all types of digital storage devices. If you need to regain access to a hard drive, RAID array or any other device, contact Secure Data Recovery Services today to set up a free evaluation at our Hartford office.
Connecticut's Best Option for Hard Drive Recovery Services
Secure Data Recovery Services was the first company in Connecticut with a certified class 10 ISO 4 hard drive data recovery Cleanroom, and our engineering teams have access to dedicated file utilities, a large component library and dozens of proprietary tools. We maintain a fully outfitted laboratory in order to provide our clients with exceptional results.
Additionally, when utilizing our data recovery services in Connecticut, you can be assured that your data is safe. Our hard drive repair services are performed in facilities that feature state-of-the-art security systems to keep your data completely confidential. We were the first data recovery provider to earn a full SSAE 18 type II certification, which we maintain through regular audits, and we hold more compliance credentials than any other provider.
More reasons to choose Secure Data Recovery Services in Hartford:
Multiple turnaround options
24/7/365 emergency services with a 48-hour turnaround
Advanced engineering teams
RAID repair and other advanced services
Compliance certifications for FERPA and PCI-DSS
We also offer around-the-clock customer service and online case monitoring tools. Secure Data Recovery Services offers a dedicated resource for media repair, and we take necessary steps to make the process as easy and hassle-free as possible. To see why Connecticut businesses use Secure Data Recovery Services, visit our testimonials page.
What to Do Should Your Digital Storage Device Fail
When your storage media fails, you need to take immediate action in order to prevent permanent damage and file loss. Even before you contact us about our data recovery services, there are steps that you'll need to take. The first is to turn your computer off immediately; do not run any disk utilities or data recovery programs. Make a list of symptoms that preceded the failure and contact our customer team as soon as possible to set up an evaluation.
Some of the most common causes of media failure include:
Hard drive actuator head failures and other mechanical issues
RAID rebuild failures or parity loss
Virus damage
Media decay and oxide damage
Fire, smoke and water damage
Accidental deletion or accidental formatting
Broken or electrically damaged electronics
Secure Data Recovery provides a full no-recovery, no-charge guarantee for hard drive and raid data recovery in Connecticut. If our specialists cannot restore your most important files to a working state, you do not pay a service charge.
We have earned our reputation as a world-class data recovery provider thanks to our best-in-class security credentials, advanced hard drive data recovery laboratory and our excellent 96 percent success rate. Secure Data Recovery Services provides Connecticut's most reliable set of professional media services, and our specialists are always ready to help you regain access to your data. For a free quote, set up a risk-free evaluation today by contacting our dedicated customer service team or by submitting a help request online.
Secure Data Recovery Process
1
Free
Consultation
Power down the device and call us, 24x7 for a free consultation and quote.
2
Free Professional Diagnostics
Submit your device at one of our locations for a non-destructive evaluation by a data recovery expert.
3
Review &
Decide
Review the diagnostic results and approve the work order at a set price, payable upon success with our "No Data, No Recovery Fee Guarantee".
4
Data Recovery & Return
Submit payment and receive your recovered data on a new external drive.