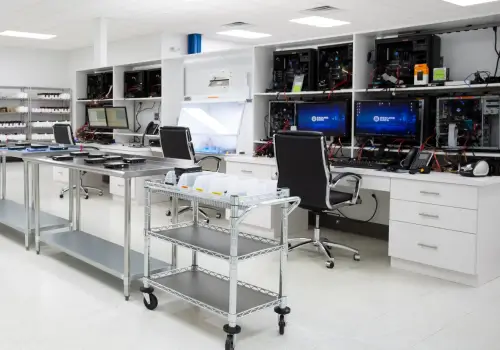 GSA Contractor Capability Statement
Secure Data Recovery Services provides a full range of custom data loss solutions for any type of digital storage device, including hard drives, solid state drives, RAID arrays, network-attached storage, virtual machines, iPhone/Android mobile devices, data tapes and more. We also provide server repair and related data services to restore critical systems compromised by ransomware and malware attacks.
Download: Secure Data Recovery - Capability Statement (PDF)

GSA Contract: GS-35F-288BA
Cage Code: 6BP27
DUNS: 796906209
NAICS: 541512
UEI: RTGJFKY5N2H3
Secure Data Recovery Services
625 Fair Oaks Ave #326
South Pasadena, CA 91030
323-944-0822
Email: [email protected]
Download the full Secure Data Recovery Services Capability Statement (PDF)
All data recovery services are covered by our guaranteed No Data, No Recovery Fee policy.
Past Performance
Our expert data recovery engineers have extensive knowledge and experience in resolving large data migration and recovery projects, and they have successfully performed data recovery services for several federal agencies and branches of the military. Previous clients include the Department of Defense and the Department of Health, the U.S. Army and U.S. Navy, as well as defense contractors such as Northrop Grumman. Secure Data Recovery has also provided support for individual military bases including Fort Bragg, Nellis Air Force Base, and Kirtland Air Force Base.
Differentiators
Secure Data Recovery Services has the most industry-specific certifications of any professional data recovery service. We were the first to incorporate certified Class 10 ISO 4 Cleanrooms in our secure data recovery labs, and we remain the only service in North America to use portable cleanrooms for on-site data recovery operations that require advanced security protocols.
In addition to annual SSAE 18 SOC 1, 2 & 3 auditing to document the security of all our data recovery facilities, Secure Data Recovery is FIPS Level 3 Certified for secure data handling practices. Our certified data recovery experts maintain an industry-leading 96% successful data recovery rate, and all diagnostics and data recovery services are performed by U.S. citizens.
Certifications:
SSAE 18 SOC 1, 2 & 3 Auditing
Class 10 ISO 4 Certified Cleanrooms
Data Recovery Resources for All Storage Media
Custom-Built Utilities for Every Device Manufacturer
GSA Approved Contractor
FIPS Level 3 Certified Data Handling
EU-US Privacy Shield Certified
TRUSTe Verified
Cellebrite Physical Analyst Certification
Rated #1 Data Recovery Company
BBB Accredited Business
Case Process
Secure in-lab data recovery begins with a full risk-free analysis and cost estimate. Data retrieval begins only after we receive customer approval. Recovered data is then returned on a FIPS-validated and hardware-encrypted SecureDrive device.
Our Technology
Secure Data Recovery Services was the first company in the industry to offer customers a Class 10 ISO 4 certified cleanroom to ensure the safe handling of storage drives in a way that minimizes the risk of additional damage during the recovery process. In addition, no other provider offers customers the option to have restored data returned on a FIPS 140-2 Level 3 validated transfer drive, the most secure storage option available.
Our data recovery laboratory also features:
Advanced RAID Recovery techniques
Proprietary Data Recovery Utilities
Dedicated Security Controls to Prevent Unauthorized Access
Data Analysis Experts