Tips for Selling a Smartphone
Before selling your phone or even trading it into a provider for a new model, you need to ensure that the device has been wiped completely clean of any information. Consumers use mobile banking apps that can lead to an exposure of your account information. Also, with selfie cameras and apps like Snapchat, phones are constantly taking and storing photos of our faces. You can clear the information by performing a factory reset. This will restore the device to its original condition when it was first purchased and your files will be gone.
Some other key actions to take before selling your phone are:
Back up any files or photos that you want to keep so information can be easily transferred to a computer or a new device.
Remove any SIM cards or SD cards that were used to store data or expand storage capacity.
Encrypt your data to give an extra layer of protection aside from a factory reset. By enabling encryption on your phone, an outside user will have to enter a password to decrypt it.
The most vital step to take before clearing your phone is to have a proper backup in place either through automatic backup to the cloud, or encrypted physical storage.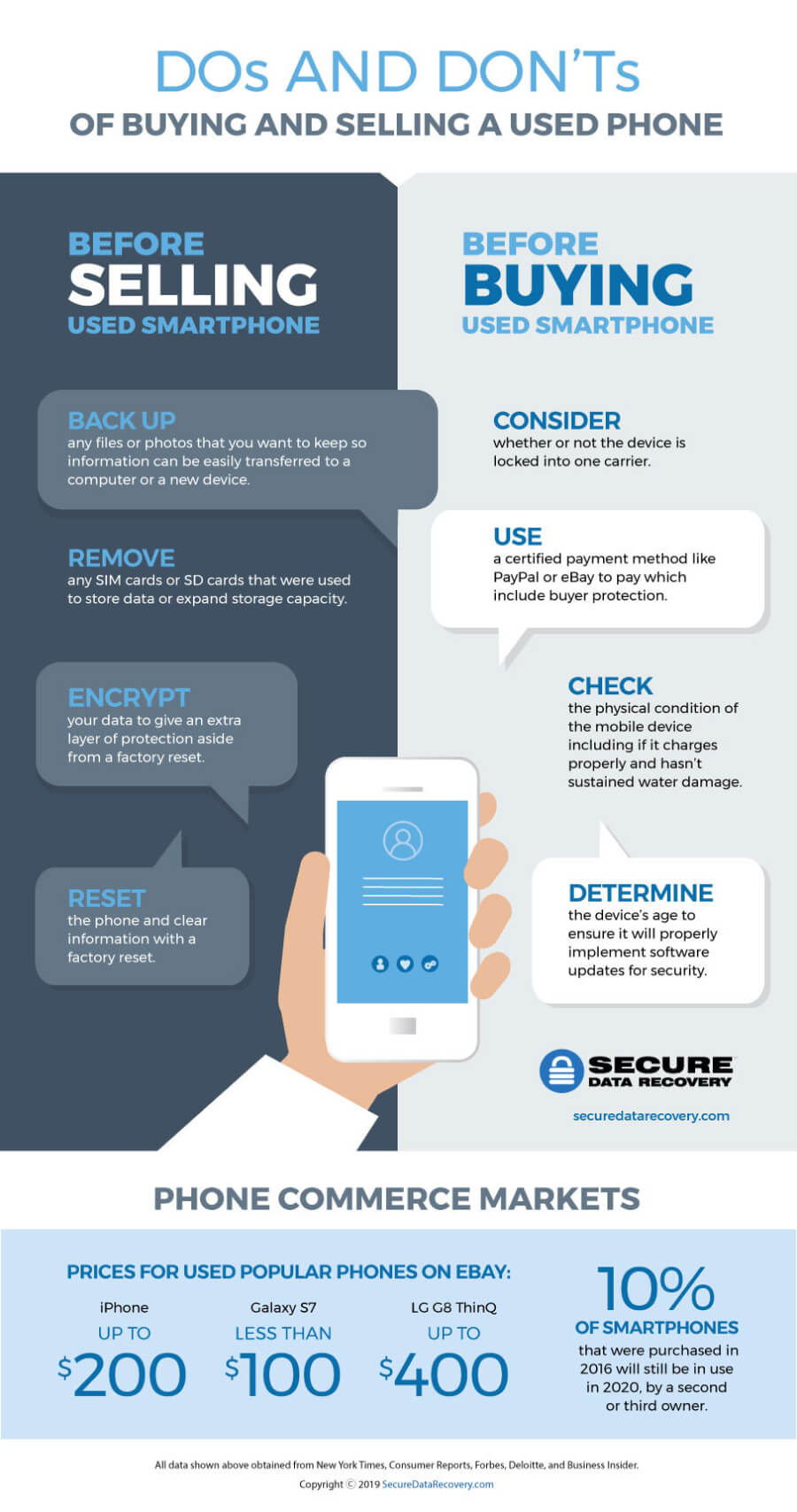 Tips Before Buying a Smartphone
As soon as the phone you purchased hits your palm, you feel it is yours to keep. Technically this is true if you paid the seller's price, but the device may soon be blacklisted without your knowledge. Blacklisting means the phone was reported as stolen or is still on a payment plan with someone else when you receive it. After a carrier blacklists the phone, it can't be activated. The best way to combat this is to use a certified payment method like PayPal or eBay who both have buyer protection.
Before buying a used phone, it would be helpful to also consider:
Whether or not the device is locked into one carrier.
The physical condition of the mobile device including if it charges properly and hasn't sustained water damage.
Check the device's age to ensure it will properly implement software updates for security.
Aside from the memory and internal programs of the phone, a strong indicator of the condition of your phone is to see what accessories may be included in the sale. If it has an original box and charger, the phone has a good chance of being in quality condition. The original charger may be the only type that is compatible with the model you bought as well.
Phone Commerce Markets
Deloitte, a consulting firm, predicts that at least 10% of smartphones that were purchased in 2016 will still be in use in 2020, by a second or third owner. There are a variety of sellers that may be interested in buying your phone and many sites where you can find a used phone to purchase. Retailers will vary in what they are willing to pay out for your device so it is wise to get a few price quotes before making a firm decision.
According to Business Insider, the prices for used popular phones on eBay are as follows:
iPhone: $150-$200
Galaxy S7: less than $100
LG G8 ThinQ: between $300 and $400
If you decide you'd rather list the phone for purchase yourself on an open market-type site, you will need to include several details about the model, storage capacity, pixel count in the camera, and any other specifics you would see listed next to a potential product.
Any Phone, Any Time
Secure Data Recovery is ready to help mobile phone users everywhere in the event their device breaks or experiences data loss. Our experienced engineers have a 96% success rate in recovering information from all devices and operating systems. Call 1-800-388-1266 to start a case with our mobile phone experts today.