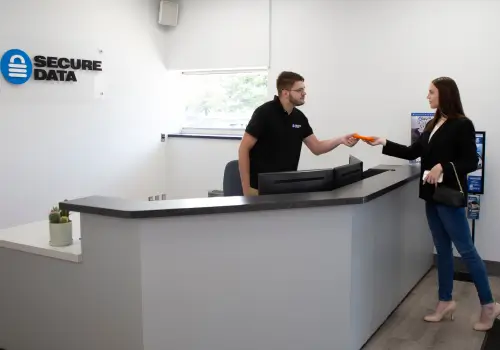 Data Recovery Services in Idaho - RAID, SSD & Hard Drive Recovery
Through numerous offices across the United States, Secure Data Recovery Services provides Idaho computer users with a reliable option for hard drive repair, RAID data recovery and other advanced services.

Known as the Gem State, Idaho has a well-developed economy despite its small population, partially due to its substantial natural resources. It also has a very significant agricultural output, and in recent years, energy companies have driven Idaho's economy through investments in renewable energy. Secure Data Recovery Services is proud to offer data loss solutions for all Idaho computer users, delivering fast access to lost data after any sudden failure.
Expert Data Recovery Services
Secure Data Recovery Services is the authority in Hard Drive Recovery, SSD Recovery and RAID Recovery. Since 2007, our data recovery company has helped tens of thousands of individuals and businesses of all sizes successfully recover from every type of data loss scenario. We understand the importance of data in the modern world and with our Economy, Standard and Emergency Data Recovery Options and state-of-the art technology we are ready to get your lost data back right now.
Experience total piece of mind with a "No Data, No Recovery Fee" Guarantee.
Recovery Services We Offer
Some of the most common sources of data loss include:
Hard Drive Mechanical Failures
Deleted or Overwritten Files
Web Server and RAID Array Rebuild Failures
Fire and Water Damage
Virus Attacks
File and Firmware Corruption
While these scenarios can have immediate consequences for Idaho businesses, a qualified data recovery company can quickly restore missing files by repairing any physical media damage and treating logical issues (such as file corruption) with appropriate tools.
At Secure Data Recovery Services, our teams have decades of combined experience with various digital platforms and different types of storage devices. If you cannot read data on a damaged device, we can provide a free price quote and turnaround estimate, giving you a detailed overview of your data recovery options. We also offer a no-risk guarantee: if we cannot recover your data, you will not pay a service fee.
With reliable success rates and best-in-class security, we deliver exceptional results for all of our Idaho data recovery customers. To start a case or to review your options with a media expert, call us today.
Professional Technology for Idaho Data Recovery
To quickly restore important data after a disaster, you need to work with an expert team of engineers.
Secure Data Recovery Services maintains an overall success rate of 96 percent, and our Idaho data recovery customers benefit from our regular investments in media repair technology. We treat hard drives, RAID arrays and other highly sensitive devices in the industry's first certified Class 10 ISO 4 Cleanroom, a specialized area designed to protect media components during specialized repairs.
We hire talented, experienced engineers and treat every case with a team-based approach, ensuring the best possible results with the fastest possible turnaround times. Our specialists can treat devices running Windows, Mac OS, Solaris, Linux, Unix and various other operating systems, and because we keep a full hardware library on-site, we can effectively perform data tape repair and other advanced procedures in a matter of days.
Our laboratory also features the industry's most complete set of security credentials, including SSAE 18 Type II SOC-1 certification and General Services Administration (GSA) contractor certification. By carefully controlling security, we provide our Idaho clients with peace of mind and verified protection throughout our case process.
Protecting Your Device After a Media Failure
If you have lost data or if you cannot normally read files on a RAID array, data tape or any other system, you should immediately disconnect power to the system. This protects your computer from accidental overwrites and additional physical damage.
Time can play an important role, so for the best possible results, you should contact a professional Idaho data recovery company as soon as possible to discuss your options. Secure Data Recovery Services is one of the only providers with truly risk-free standard diagnostics, and our turnaround options keep our services within your budget.
Other features of working with Secure Data Recovery Services:
Support for All File Types, Operating Systems and Device Types
Free Standard Diagnostics
Resources for RAID Repair and Hard Drive Repair
Multiple Case Options Including 24/7/365 Same-Day Services
Fast Access for Idaho Residents Through a Network of Offices
Whether you need files from a mechanically damaged hard drive, an overwritten RAID array or any other type of digital storage system, Secure Data Recovery Services provides the best options for Idaho computer users. Our data recovery guarantee prevents unexpected expenses, and with certified security and advanced technology, we provide exceptionally reliable solutions. Call 1-800-388-1266 today to get started or for more information.
Secure Data Recovery Process
1
Free
Consultation
Power down the device and call us, 24x7 for a free consultation and quote.
2
Free Professional Diagnostics
Submit your device at one of our locations for a non-destructive evaluation by a data recovery expert.
3
Review &
Decide
Review the diagnostic results and approve the work order at a set price, payable upon success with our "No Data, No Recovery Fee Guarantee".
4
Data Recovery & Return
Submit payment and receive your recovered data on a new external drive.