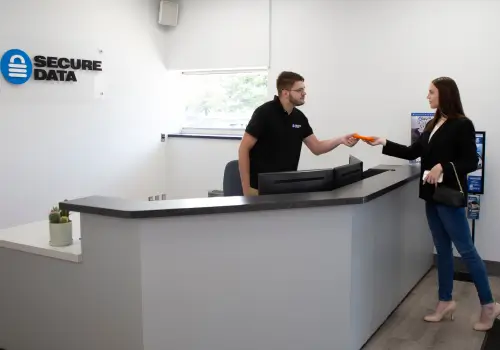 Data Recovery Services in Palm Coast - RAID, SSD & Hard Drive Recovery
Recovering data from a failed hard drive, SSD, RAID, or other data storage has never been easier for residents of Palm Coast, FL and the greater Deltona and Orlando areas. Our store on Palm Coast Parkway SE near the junction with North Old Kings Road is just a few blocks southwest of the Palm Harbor Golf Club. No appointment needed.
Experience total peace of mind with our "No Data, No recovery Fee" guarantee.
Our customers rate our services:
We Helped Thousands Get Their Lost Data Back.
With over 5,320 satisfied customers and growing, we are proud to provide outstanding customer experience and quality service that consistently exceed customer expectations.
View All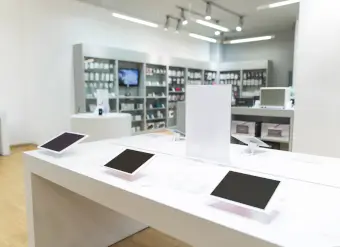 Secure Data Recovery Services
Emergency Services Available 24x7
Secure Data Recovery Near You
Looking for data recovery in Palm Coast, FL? We have multiple locations in Flagler, Volusia, Orange, and Duval counties to ensure that you have a convenient location near you. In addition to Palm Coast, FL, we serve the central coast and in greater Orlando areas. Visit us in Ormond Beach, FL on West Granada Boulevard near the junction with South Washington Street just west of the Granada Bridge. Need data recovery in Orlando? Visit us on Vineland Road near the junction with South Kirkman Road and just northeast of Universal Studios Florida.
Call or drop by to schedule your free data recovery consultation with a no-obligation price quote.
Data Recovery Company in Palm Coast, FL
Secure Data Recovery Services are the Palm Coast hard drive recovery, SSD recovery and RAID recovery experts. Since 2007, our data recovery company has helped tens of thousands of individuals and businesses of all sizes in Palm Coast successfully recover from every type of data loss scenario imaginable. We have seen your failure type before and our team understands the importance of data in the modern world. We're ready to recover your lost data with our flexible Economy and Standard data recovery services, or immediately with our Emergency data recovery option.
What Can We Recover For You Today?
In addition to hard drive recovery and RAID recovery, we specialize in complex data loss solutions for SSD drives and other NAND-based flash memory devices, iPhone and Android smartphones and mobile devices, network-attached (NAS and SAN) storage systems, and virtual machines.

Palm Coast, FL Data Recovery
Isabel Ford
Reviewed on Jan 08, 2022 | Jacksonville Beach, FL
Great Customer Service from Jonathan Nguyen
Jonathan did an outstanding job helping me through the entire process of recovering very special pictures and videos from my daughter''s iphone. In particular, Jonathan responded quickly to all my questions and kept me updated on the process the entire time without my request. Thank you for all your help.
Daniel Montgomery
Reviewed on Jun 30, 2021 | Saint Johns, FL
SECURE DATA RECOVERY SERVICES WERE AWESOME. TIM PROVIDED OUTSTANDING FEEDBACK, ANSWERED ALL MY QUESTIONS, AND GAVE ME CLEAR EXPECTATIONS ON WHAT WAS TO COME. THEY RECOVERED 100% OF OUR DATA ON A DEVICE THAT HAD INTERNAL MECHANICAL ISSUES. IF THAT WASNT ENOUGH THEIR TURN AROUND TIME WAS AMAZING. ONCE AGAIN TIM GAVE ME REALISTIC EXPECTATIONS, AND OVER PERFORMED ON THOSE. GREAT RESULTS!!!!!!!!!!... Read More!!!!!!!!
Terri Dugas
Reviewed on Aug 05, 2019 | St. Augustine, FL
Jeff was always timely with his responses and was able to give me great answers! Almost all of my data was recovered. Great service!
Sami Sammour
Reviewed on Jul 23, 2019 | Pompano Beach, FL
I had a IPhone 6 Plus with a screen that was unresponsive and could not be repaired. Secure data were able to recover all contents. I was communicating with Jake Gambatese who was very prompt and responsive. I was impressed with how quickly he responded to his emails. At the end, they did what I needed done.
Jaclyn Hernandez
Reviewed on Feb 18, 2019 | Ponte Vedra, FL
Thank you Ryan for amazing customer service. Your prompt replies were greatly appreciated! Pricier than I expected, but recovered over 99% of >1T of data. I have already recommended Secure Data to others.
Jaime Pagan
Reviewed on Aug 27, 2018 | Fernandina Beach, FL
Data Recovery for my drive
I worked with Mr. Ryan Wiggins during this hard time we had. He is very Knowledgeable, and cooperative. He explained everything every step of the way and accurately. Everything went as expected and his company was successful in obtaining 100% recovery of our drive. They were fast in their service and I could not recommend them any more highly. Thank you Ryan ans Secure Data Recovery for all y... Read Moreour work and service.
Why Choose Secure Data Recovery In Palm Coast, FL?
Certified and Verified Secure
Transparent Process
Trusted and Guaranteed Results
Secure Data Recovery Services operates in world-class facilities that undergo regular SSAE 18 SOC 1, SOC 2, and SOC 3 audits to verify the integrity of all cybersecurity management control systems. This means that your data is protected at every stage of the recovery process.
Each of our Lab facilities also has a certified Class 10 ISO 4 cleanroom. This specialized environment provides state-of-the-art filtration to remove potentially harmful airborne particulates that could damage the sensitive internal components of storage devices.
For more than a decade, the engineers at Secure Data Recovery Services have built a reputation as the most reliable provider of professional data recovery in the industry. Our expert team maintains a documented 96% successful recovery rate.
We maintain partnerships with every major digital storage manufacturer to ensure our custom solutions never threaten any existing product warranties. We also invest heavily in research and development to keep pace with rapidly evolving digital storage technology.
Free Data Recovery Quote
We intimately understand all data loss scenarios and will exhaust all options technologically possible to reunite you with your lost data as quickly as possible. When you choose Secure Data Recovery Services, you get the most credentialed professionals in the industry.
Service times and exact pricing for a successful recovery always depend on the specific damage to the storage, which is why we offer free, no-risk diagnostics with every standard service.
Our quotes consist of:
Price for successful recovery
Time estimates for the job
Key information about the events that led to data loss
Call 386-230-0374 to speak to a data recovery expert 24x7 and schedule your free data recovery consultation with a no-obligation price quote.