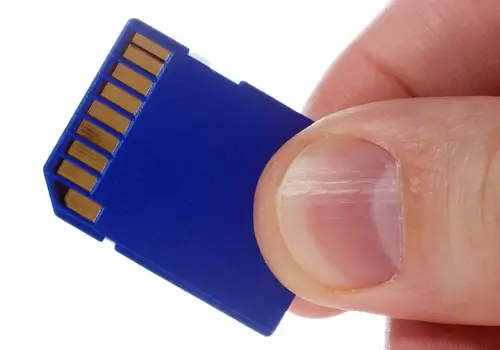 What is an SD Card?
What is an SD card? It's a typical tech question. Consider the following items: a smartphone, a connected device, a navigation system, a digital camera, or an eBook. It's impossible to imagine life without them. Still, we don't often consider the technologies that bring them to life. Each of the listed devices needs to be able to store significant amounts of data. And each device must meet its data-storage requirements without dedicating much space to the task. Given those constraints and demands, the Secure Digital (SD) card is an excellent storage option.
But what is an SD card?
The thumbnail-sized SD card was developed around the turn of the century. It represented a potential solution to several problems with portable storage. Experts, anticipating an explosion of mobile devices in the coming decade, recognized the need for smarter storage design. At the time, the portable storage landscape was cluttered, confusing, and expensive. A more cost-effective, versatile standard would open more possibilities, so SanDisk, Panasonic, and Toshiba combined to form the SD Association. In 2000, the SD Association released a 64-megabyte prototype that was a dramatic improvement over its direct predecessor, MultiMediaCards (MMCs). The SD card quickly became the standard for portable electronics behind better usability, faster read-and-write speeds, and larger storage sizes.
As of 2022, SD cards are found in thousands of mobile device models and can even reach sizes of 128 terabytes. That's over a million times larger than the first SD card.
SD cards are the portable storage and transport option for files on tablets and smartphones.
How Do SD Cards Work?
Wondering how SD cards work is normal.
SD cards are non-volatile flash memory cards.
In short, that means SD cards can read or write data without a continuous power supply. An SD card can add or remove electrons and change the voltage within one of its cells through complex electrical processes using complementary materials. Once programmed, the SD card stores data on NAND or NOR chips. Sometimes, a combination of the two fulfills different storage objectives. Regardless, the result is a persistent storage system. Another critical characteristic of the SD card is the absence of moving parts. A durable, wear-resistant design is crucial to long-term performance considering its role in mobile computing. Occasionally, SD cards are equipped with a write-lock mechanism to protect data further. The switch is located on the left side of the card and prevents old data from being erased and new data from being saved. Sliding the switch down enables write lock. To resume regular read-and-write functions, slide the switch upward.
The Forms and Standards of SD Cards
SD cards never stop evolving. Two additional SD cards have been introduced to the market to address the changing conditions for portable devices. The cards, known as Mini SD and microSD, offer unique physical and storage sizes for various applications.
SD
A descendant of the original SD card, measuring 32mm x 21mm x 2.1mm, remains in widespread use. Although its larger footprint is not often used in smartphones, it is still found in appliances or digital cameras, for example. An SD card can only fit in an SD card slot.
Mini SD
At 21.5mm x 20mm x 1.4mm, the Mini SD is the mid-sized offering. It is the most infrequent card. It does not include a write lock.
microSD
The microSD has the smallest footprint at 15mm x 11mm x 1 mm. It is the most recent addition to the line and the most popular in smartphones or other portable devices that cannot sacrifice space. A microSD's data is stored on a monolithic chip. Monolithic architecture is more compact and integrated, but the integration comes at a cost, as recoveries are more complicated. The microSD does not include a write lock, but does have an adapter that allows it to be inserted in an SD card slot.
Along with the three form factors, SD cards feature four standards. These standards describe the SD card's capacity range and file system. The maximum capacities and file systems for the SD and microSD cards are found below:
| | SD | microSD | File System |
| --- | --- | --- | --- |
| SD (2000) | 2 GB | 2 GB | FAT16 |
| SDHC (2006) | 32 GB | 32 GB | FAT32 |
| SDXC (2009) | 2 TB | 2 TB | exFAT |
| SDUC (2018) | 128 TB | 128 TB | exFAT |
The Future of SD Cards
While it is rare for a piece of technology to reign for more than two decades, the SD card does not show signs of obsolescence. The International Data Corporation (IDC) projects billions of connected devices to exceed 79 zettabytes of data within the next three years. Given robust demand and a record of innovation, it's unlikely that anything will surpass the SD card soon.
What is the Lifespan of an SD Card?
The lifespan of an SD card is another reason for its inclusion in mobile devices. Due to its lack of moving parts, a card can last a decade or longer with regular usage. Improper usage leads to shorter life expectancies. Do not force the SD card into its slot. Do not expose the card to extreme temperatures or water. Keeping the SD card from an electromagnetic field is paramount, as interference can disrupt storage and lead to data loss.
SD Card Recovery
SD card recovery can be a complex endeavor.
It does not matter whether the files have become corrupted or if the card itself suffered minor damage, such as pin misalignment. It could be the result of accidental formatting. Whatever the reason, being separated from data is a stressful event. Fortunately, users can take a few steps to resolve the issue. Some potential fixes are simple, like using the card on a different device or changing the card reader. Others might require professional recovery software. Nevertheless, restoring data from an unresponsive SD card is possible, even in extreme cases.
Secure Data Recovery Services employs expert engineers for SD card recovery. In addition to our proprietary file-recovery software, our trained technicians have a wealth of knowledge across form factors and standards. We have encountered countless scenarios, and each experience informs subsequent recoveries. Our attentive customer service and high success rate inspire us to offer a risk-free recovery pledge. You do not pay a recovery fee if we can't restore your data. We guarantee it.
Call us at 800-388-1266 for a free, 24/7 consultation.