Reasons why your USB drive isn't showing up
A USB drive, often called a thumb drive or flash drive, not being detected could be caused by either a software or a hardware issue. Some common causes of this problem include:
Compatibility issues, like incompatible devices
Outdated, incorrect, or corrupt drivers
Damaged or faulty USB ports or cables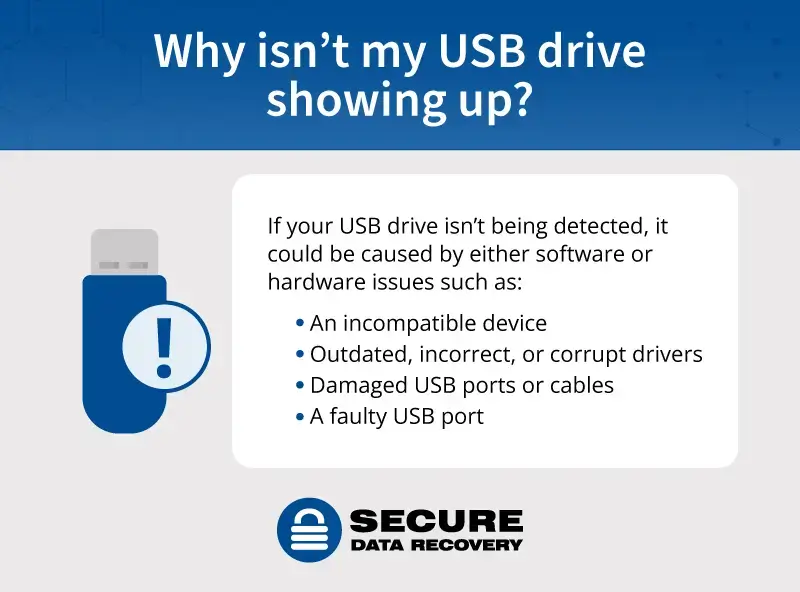 First steps and quick fixes
If you're having trouble with your USB device, it's best to rule out the most likely causes with basic troubleshooting. These fixes don't require technical knowledge or elaborate steps, and work for both Windows PCs and Macs.
Disconnect and reconnect the USB drive. Sometimes it might just not be connected properly, causing the read error.
Restart the computer. Sometimes a reboot allows your device to resolve the error itself.
Check the USB stick or the port for damage or dust. Physical damage can cause the device to malfunction.
Check the USB drive is turned on (if it has external power or batteries). Some drives need power to function and have dedicated power buttons or cables. If the device isn't connected to power or isn't turning on, it might be a power issue.
Check all necessary drivers and software are installed. Drivers or software are necessary for your computer to read the device, and may need to be installed or updated.
Try connecting the USB drive to a different port on your computer. Your computer may have other ports you can use than the one your drive is currently plugged into. Using another USB port on your computer helps rule out if the issue is with the port. If your USB drive isn't working in any other port, try a different one, like the port that connects directly to the motherboard on the back of your computer.
Try connecting the USB drive to another computer. Trying to use your device with another computer will help you figure out if it's an issue with the drive or your computer.
How to Fix a USB drive not showing up in Windows
If you've tried basic troubleshooting and your device still isn't showing up, it might be worth moving on to more complex fixes. Here's how to fix issues with your USB drive on Microsoft Windows.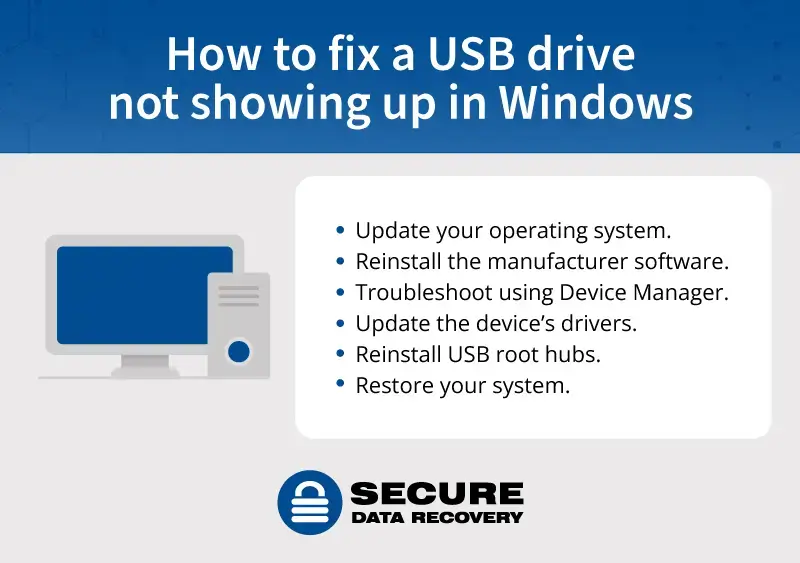 Update your operating system
Sometimes, your USB device may not be detected if your operating system is out of date. Try running Windows Update to see if any operating system updates are required. Make sure to opt in to any recommended driver updates.
Reinstall device manufacturer software
Some USB drives require manufacturer software to be installed on your computer before they work. If the device came with software that you didn't install, try installing the software before you reconnect the device. If you've already installed the software, try uninstalling and then reinstalling it according to the manufacturer's instructions.
Troubleshoot with Device Manager
Windows Device Manager gives you an overview of the hardware installed on your computer, including external hard disks. You can find Device Manager on your computer through the following steps:
In the search box on the taskbar, type in "Device Manager," or if you are in File explorer, you can right-click "This PC," then "Manage," then "Device Manager."
Select it from the menu.
See if your device is listed there. It could appear several ways:
"Unknown device," which means the drivers need to be updated or the root hubs need to be reinstalled (see next two sections).
"Other device," which means it wasn't set up properly and the drivers need to be installed following the manufacturer's instructions.
The device's name is shown: it may be a physical problem or a driver issue.
If your device doesn't show up in the Device Manager window, try moving on to the next steps.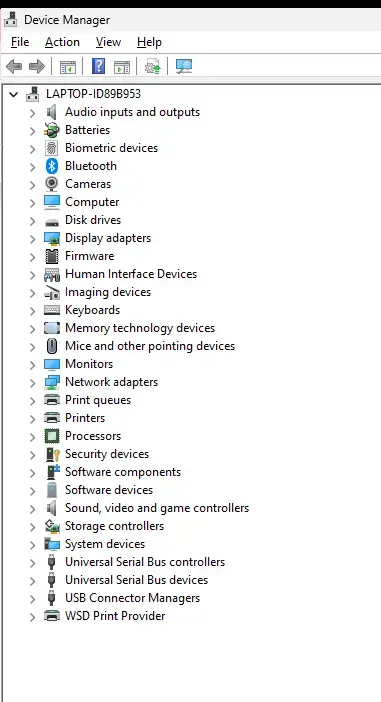 Update drivers
Device drivers can impact whether or not a device functions. Not only do the proper USB drivers have to be installed per the manufacturer's instructions, but they also should be up to date to avoid any software issues.
Here's how to update your device's drivers:
Open Device Manager and expand "Universal serial bus controllers."
Look for your USB device. Right click and select "Search automatically for updated driver software."
Select "Update driver" if Windows finds one. Otherwise, try going to the manufacturer's website and following its instructions.
Reinstall USB root hubs
The USB root hub is what monitors the insertion and removal of devices. You can use Device Manager to disable and then re-enable the USB hub, which may enable the controllers to recover the USB port from its unresponsive condition.
Here's how to reinstall USB root hubs:
Disconnect other USB devices (except the keyboard and mouse).
Open Device Manager and expand "Universal serial bus controllers."
Right-click the USB root hubs listed and click uninstall on each.
Restart the computer.
After it restarts, Windows will scan for hardware changes and reinstall the USB root hubs that were uninstalled.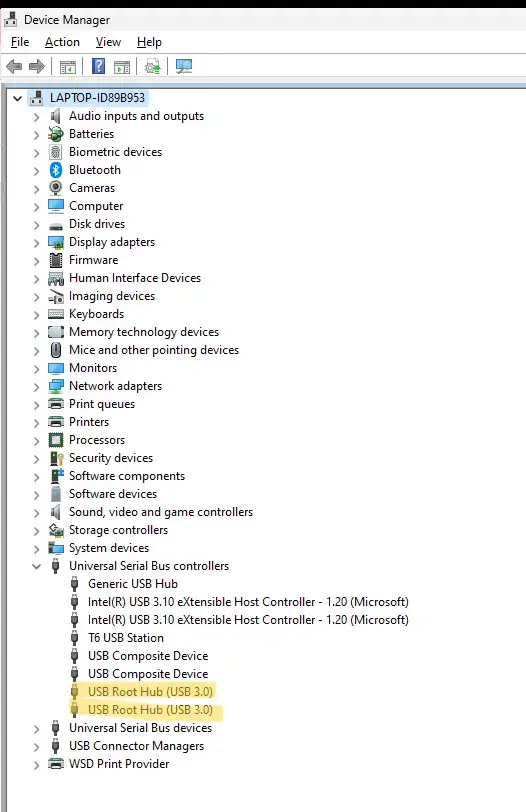 Restore your system
If the USB issue started recently, you can restore your system to a point before the problem occurred. This may help resolve the issue by reverting to the previous USB settings and general configurations. Your personal files won't be affected, but any software you've installed since the restore point will be deleted.
How to fix a USB drive not showing up on a Mac
Though some USB devices are compatible with both operating systems, read errors and troubleshooting strategies are a little different for Apple devices. Here's how to address issues with your USB drive on Mac.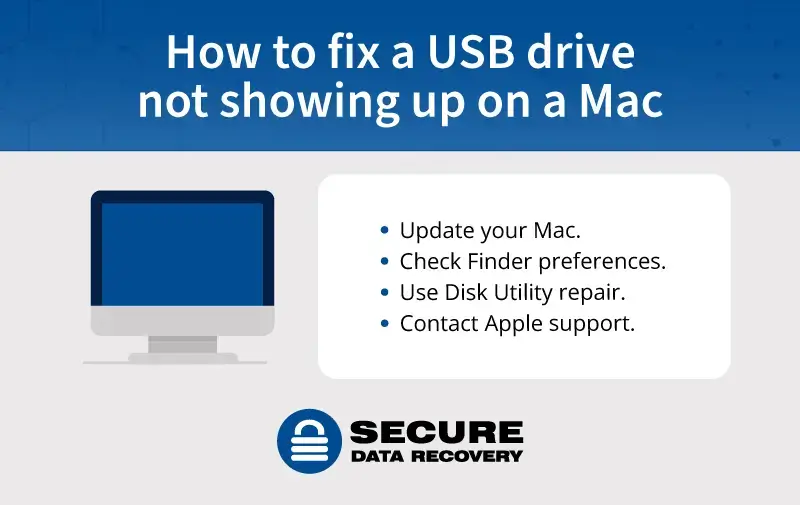 Update your Mac
Similar to a Windows computer, if the operating system isn't up to date on your Mac, it may cause issues with your USB device. You can check for system updates in your Settings. Here's how to find them:
Go to the Apple menu.
Click on System Settings.
Click "General."
Select "Software Update" to check for and install any updates.
Check Finder preferences
Mac Finder shows you the contents of your Mac's file system, including any external devices. If your settings aren't currently set to show external devices, you might have trouble finding your USB drive. Here's how to change your Finder preferences (or verify that they're correct):
Open Finder, and then select "Settings" from the Finder menu.
Under "General," click to show "External Disks." This should show you any external hardware connected to your Mac. If your device isn't listed, move on to the next steps.
Use Disk Utility
Disk Utility is a disk management tool that helps you manage internal and external storage devices. If you can't find your device, try launching Disk Utility. If your USB drive shows up there but can't be accessed, you can run the "First Aid" feature to try to repair it.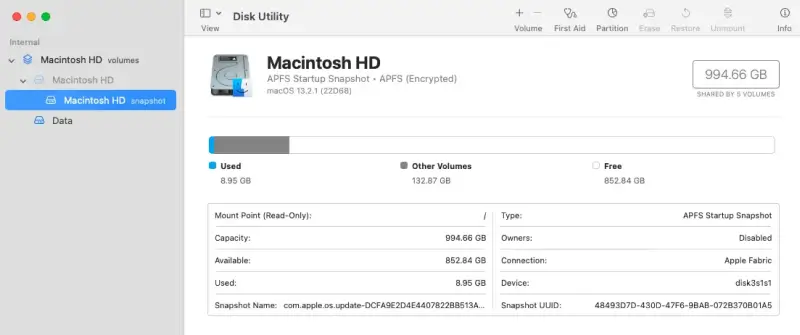 Contact Apple support
If you tried these strategies and did the initial checks, like checking your USB cable and restarting your computer, and your USB device still isn't showing up, you may need to contact Apple Support.
How to prevent USB drive errors
Though USB drive errors can happen at any time, taking care of your devices is the best assurance against them. Here are some tips to help prevent USB errors and keep your device functioning.
Always use the eject function to remove a USB device. Don't just pull the device out when you're done with it. Right-click the drive in the icon tray on your desktop and select the option to "safely remove hardware."
Keep your devices clean and free from dust.
Keep your USB drive in a cool, dry place, protected from things like extreme temperatures, humidity, excessive sunlight, and rain. Make sure you return it there after you use it and avoid leaving it in places where it could get damaged, like in a hot car, in a pocket in clothing where it could accidentally be put through the washer, or on a high shelf where it could be knocked over and fall.
Don't leave your drive plugged in or permanently connected to your system. Electrical disruptions could cause issues.
Always back up your files. Device issues can happen even in the best circumstances, so it's important to make sure your data is safe if they do.
Recover your USB drive data
It's stressful when your USB drive doesn't show up, especially if you know you have important files on it. But, even if your device is broken, your data may still be recoverable. No matter what type of USB device you have, or what kind of damage you're dealing with, Secure Data Recovery can help you recover your lost data.