3 Simple Fixes if "Getting Windows Ready" Is Stuck
If you're dealing with a stuck "Getting Windows Ready," you can try a few simple troubleshooting steps first. This section provides an overview of what they are and how to do them.
Please note that, though you're dealing with a frozen screen, a "Getting Windows Ready" error is different from similar issues like your PC turning on but showing no display or a blue screen.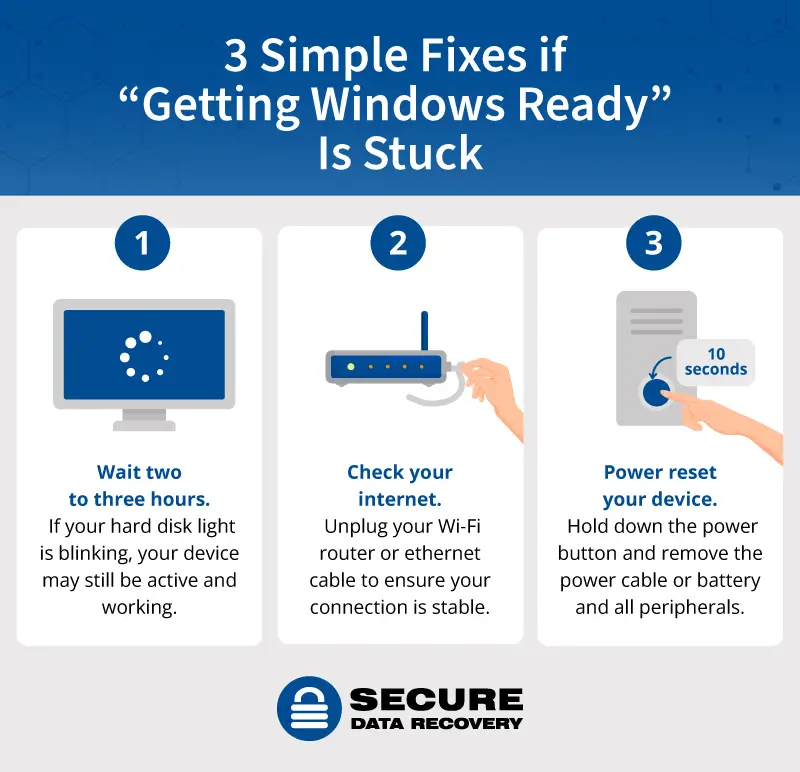 1. Wait Two to Three Hours
Sometimes the best way you can address this error is with patience. If you're connected to the internet, Windows might be installing updates and may just need a while to complete this task. Look at the hard disk LED light on your PC or laptop to see if it's blinking to show activity. If it is, this shows you may just have to wait, and the issue will resolve on its own.
If it hasn't resolved in two to three hours, try performing a power reset.
2. Check Your Internet Connection
Alternatively, the issue could be that you're not connected to the internet. Check if you're connected to the internet — your computer may be stuck on this screen because it needs a stable internet connection to proceed with the update process.
If your Wi-Fi router is working, try turning it on and off again to make sure the connection is stable enough for it to download updates. If you're using wired internet, check the connection, and try unplugging the ethernet cable and plugging it back in again.
3. Shut Down and Power Reset Your Computer
Even though the screen says "Don't Turn off Your Computer," you may have to shut down your device with a power reset to fix the issue. This type of reset will not reset Windows. If you reset Windows, you take your computer back to factory settings, removing data. A power reset (also known as a hard reset), however, can clear the memory without erasing your important data.
Here's how to perform a power reset:
Disconnect all peripheral devices (such as USB devices, like USB flash drives, or external hard drives) if you have them.
Remove the power cable. Some laptops have a removable battery, so you have to remove the battery and then reinsert it before you plugging in the power cable again.
Press and hold the power button for 10 seconds to shut down your computer.
Turn your computer on again.
7 Advanced Steps to Fix "Getting Windows Ready" Stuck
If these simple fixes didn't solve your issue, you can try these advanced options. Be sure to try these steps in order one by one.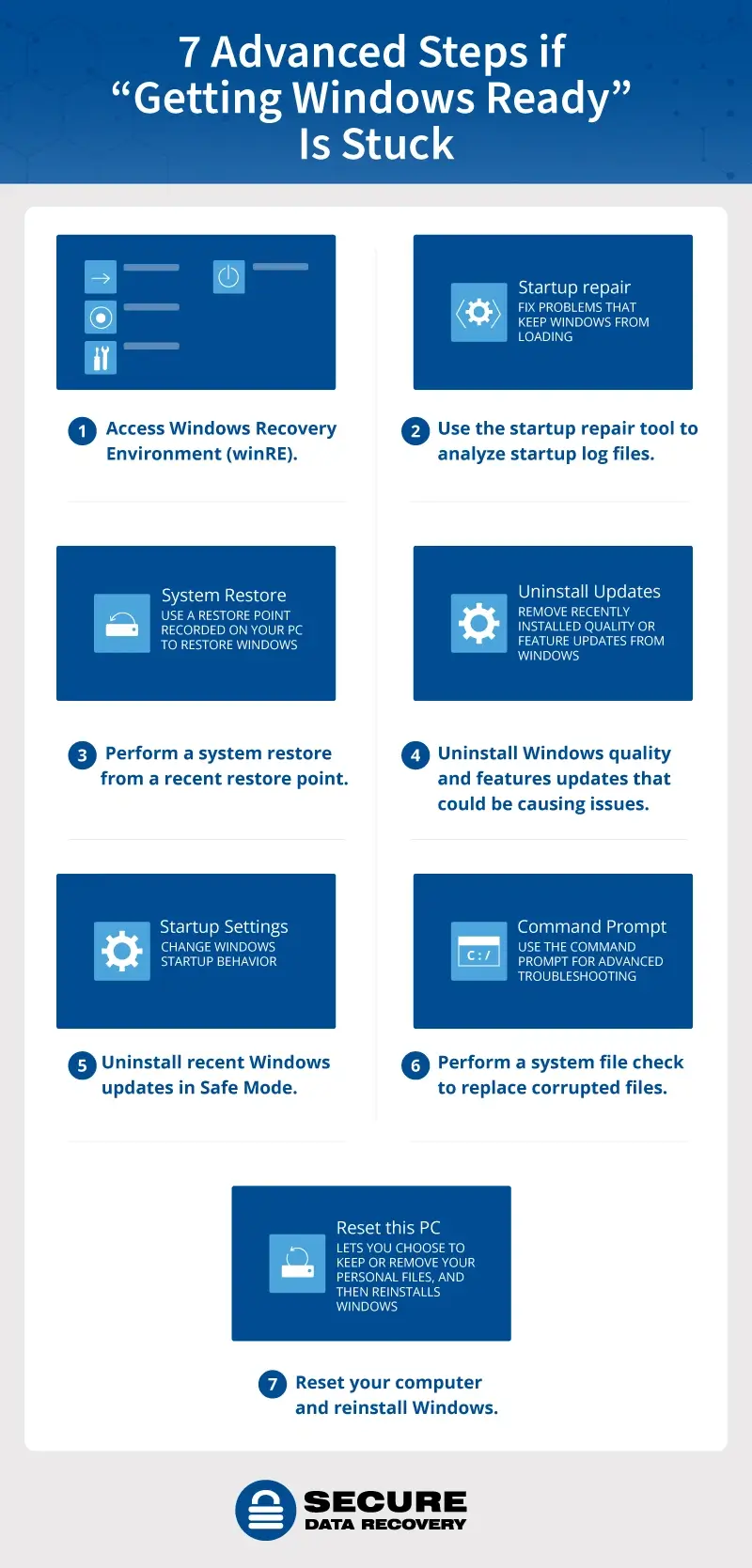 1. Access Windows Recovery Environment (winRE)
Windows Recovery Environment (winRE) is a built-in program that can help address common boot issues. You can access winRE in several ways, but here are two common methods:
Turn on your computer (after turning it off).
Hold the Shift key down and press the power button at the same time.
Continue holding the Shift key as your machine powers on.
Or, you can try these steps:
Hold the power button down for 10 seconds to turn off your device.
Press the power button again to restart your device.
Once you see that Windows is starting (for example, the manufacturer's logo shows on the screen), hold the power button for 10 seconds to turn off your device again.
Repeat this three times total to enter winRE.
If these methods don't work, try using Windows Installation Media to Enter WinRE. You can download the media creation utility for your Windows operating system from the Microsoft software download page.
Use another device to download the software, and then run it to create Windows installation media on a separate USB drive or disk. You can then use this external device to boot your computer.
2. Use the Startup Repair Tool
The Startup Repair Tool performs diagnostics, analyzing startup log files to determine the cause of the problem and then trying to fix the problem.
Once you've entered winRE, you can access and use the Startup Repair Tool through the following steps:
In winRE you'll see several options. Click on "Troubleshoot."
Click on "Advanced Options."
In the "Advanced Options" menu, click on "Startup Repair."
Select an account from the "Startup Repair" screen, but remember that to continue, you'll need administrator privileges for the chosen account.
Input your password.
Under the password you entered is a button labeled "Continue." Click this button to begin the repair tool.
Give the Windows Startup Repair Tool time to run.
Once it's finished, you can restart your PC.
3. Perform a System Restore
Once you're in winRE, you can also restore your operating system to a system restore point from a previous date if you have any saved. System Restore creates restore points either automatically, such as when you install new apps, drivers, or Windows updates, or manually, when you create them. If system updates are creating problems, you can restore your Windows system to a previous restore point, removing the update without affecting your personal files.
You can access System Restore" through the first two steps above. Once you click on "Troubleshoot," then "Advanced Options," choose "System Restore" from the "Advanced Options" menu. From there, you can select a system restore point and follow the instructions on screen.
Keep in mind, however, that new accounts and data may be lost. Also, in some cases, the restore may not work and could lead to error messages.
If you have been performing system image backups, you can also restore your PC to what it was at the last backup date through System Image Recovery, which you can find in your Advanced options tab. Like a system restore, this deletes anything new that was added after the last backup date.
4. Uninstall Quality and Features Updates
Windows Quality and Features updates are meant to fix bugs and improve your experience, but they sometimes can cause compatibility with existing software or hardware, or affect drivers. This is a common reason why a computer may keep crashing.
To try uninstalling Quality and Features updates on your system, follow the same few steps as above. Once you're in winRE, click on "Troubleshoot," then "Advanced Options," and choose "Uninstall Updates" from the menu. Try uninstalling the latest quality or feature updates to see if it fixes your computer.
5. Uninstall Windows Updates in Safe Mode
You can also try uninstalling Windows Updates in Safe Mode, a built-in environment designed to help fix your operating system. Getting to it involves similar steps to the methods above: from "Advanced Options" in winRE, go to "Startup Settings" and then press F4 to enter Safe Mode.
Once you're in Safe Mode, go to the Control Panel and choose "Programs and Features." Select recent updates and uninstall them to see if that fixes the boot loop.
6. Perform a System File Check
If none of the methods we've recommended up to now have worked, and you're not confident using command prompts on a computer, you might want to consult a professional at this stage.
If you do feel confident using command prompts, you can try performing a system file check. The System File Checker scans the protected system files on your device and replaces corrupted ones with cached working copies, which can fix many operational issues.
To access and run the System File Checker, follow the steps in previous methods to reach the "Advanced Options" menu. From there, follow these steps:
Select "Command Prompt" from the "Advanced Options" menu.
Type in "sfc /scannow" and press Enter to begin the system scan.
Once the scan is complete, type in "chkdsk / f c:" (or replace "c" with the drive your Windows system is installed on, if needed). Press Enter.
7. Reset Your Computer and Reinstall Windows
If none of these methods work, you can try to reset your device. This is a drastic step, so you might want to consult a professional first. If you want to proceed with resetting your device, follow these steps:
From "Troubleshoot," select "Reset This PC."
Choose "Keep My Files" or "Remove Everything." (Note: even if you choose "Keep My Files," you may still lose data.)
Click "Local Reinstall" and follow the instructions that appear on screen.
Safely Recover Your Data
Dealing with any computer error is frustrating, especially when the problem prevents you from using your device at all. But even if your device is stuck on the ready screen, you can try a few ways to fix the "Windows ready stuck" error or at least recover your important files.

When in doubt, taking your computer to an expert at Secure Data Recovery can be a great first step to get things back on track and ensure you don't delete any important data.

;