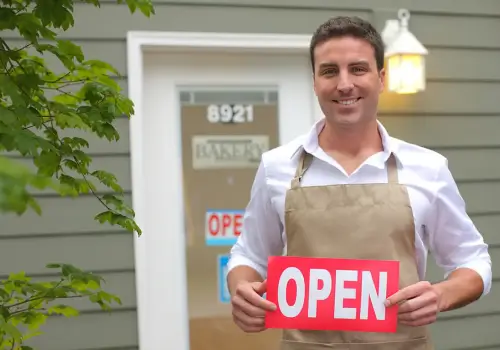 Reliable Data Recovery for Small Businesses
Secure Data Recovery Services provides small businesses with an excellent set of options for media repair and data recovery. We operate more than 40 facilities across the United States, and our teams are always ready to help you keep you systems running after an unexpected disaster.
Small businesses need a secure, affordable way to recover from sudden data loss.
Small businesses depend on servers, hard drives and other data storage devices, and sudden media failures can have disastrous consequences. Fortunately, experienced data recovery engineers can successfully treat most damaged computer systems in a matter of days, restoring inaccessible files and preventing serious productivity losses
Some common file loss scenarios for small businesses include:
Accidental File Deletion, Formatting and Other User Errors
Hardware Issues Including Hard Drive Crashes and RAID Failures
Damage from Viruses and Other Malicious Programs
Electronic Damage Due to Electrical Events
Missing, Corrupt or Unreadable Files
Secure Data Recovery Services gives you an outstanding set of resources for keeping mission-critical systems online, and our teams are always ready to start work on your case. We also offer data tape transfer and other media services to help your business avoid file loss. Contact our customer service team today to get started.
What to Do When a Computer System Fails
Unscheduled downtime can pose a serious threat to any small business, and data loss can be extremely frustrating. To prevent accidental damage, you should avoid operating your storage system. Keep your computer turned off and do not attempt to repair your storage media. By keeping your system completely powered down, you will drastically improve your chances of a successful recovery.
Call our team to schedule a media evaluation. We offer completely risk-free diagnostics, and within several days, we can provide you with a full analysis of your system failure. Each diagnostic report includes a price quote, turnaround estimate and other essential information. If you choose to approve our services, we can return your data within several days under our standard service option. We protect our small business clients by providing a full no recovery, no charge guarantee with every case.
Secure Data Recovery Services offers dependable results through more than 40 facilities. As one of the only companies with a certified Class 10 ISO 4 Cleanroom, we are uniquely qualified to provide hard drive data recovery and other specialized services. We can recover data from corrupt RAID arrays, damaged hard drives, water-damaged flash devices and virtually any other storage device, and our risk-free diagnostics give your business a powerful resource when data loss occurs.
Data Recovery with Flexible Service Options
In order to keep your business running after a data disaster, you need a capable data recovery provider with fast turnaround times and excellent security. Secure Data Recovery Services' engineering teams have decades of combined experience, and we offer several turnaround levels to help small businesses stay productive while controlling their budgets.
Our service options include our 24/7/365 emergency service, which features an average turnaround of less than 48 hours. Under this option, we will dedicate a team of skilled engineers to your case to drastically cut your downtime after any data loss disaster. We also offer remote data recovery services for logically damaged files. If you have a corrupt database or a deleted email archive, our remote service gives you a fast way to regain important data without shipping your media.
Other advantages of working with Secure Data Recovery Services:
SSAE 18 Type II Certification
Compliance with Other Standards
Online Tools for Easy Access to Case Status Updates
24/7 Customer Service
A 96 Percent Data Recovery Success Rate
No Recovery, No Charge Guarantee and Risk-Free Diagnostics
Local Drop-Off and Pickup Services
Capable RAID Repair and RAID Data Recovery Services
When your business needs fast access to mission-critical information, call Secure Data Recovery Services. We have the experience and the technology to restore any digital storage device to a working condition, and with a large network of data recovery facilities, we give you an easy, hassle-free way to keep your small business's systems running. Call us today at 1-800-388-1266 to set up an evaluation.