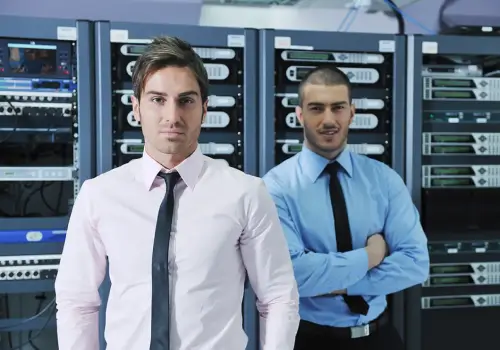 Data Recovery Solutions for IT Specialists
Secure Data Recovery Services offers an advanced set of solutions for computer repair companies, data centers, dedicated IT departments and organizations that regularly require professional media services.
Secure Data Recovery Services gives IT specialists a dedicated option for media conversion, data recovery and more.
As the world's most advanced data recovery provider, we operate more than 40 dedicated facilities across the United States. Regardless of the size of your system, our teams can help you control your expenditures while preventing data loss. We offer special case options and rates for IT specialists.
Advantages of our services include:
Fast Turnarounds and Multiple Service Options
SSAE 18 Type II Security and Other Credentials
Support for All Media Formats and Operating Systems
Online Case Monitoring Tools
Easy Access Through an Expansive Network of Offices
We offer 24/7/365 emergency data recovery services, and thanks to our no recovery, no charge policy, your business can guarantee the best possible return on investment in every case. Secure Data Recovery Services offers special partner programs with discounted rates, and our standard services feature risk-free price quotes and turnaround estimates.
To get started or for more information, call our customer service team today.
A Dedicated Resource for Data Recovery and RAID Repair
Your business needs a data recovery partner that can safely repair any storage system while protecting the integrity of your media. Unfortunately, many providers have limited resources and cannot provide consistent turnaround times or high recovery rates when treating media.
Secure Data Recovery Services treats hundreds of digital devices each year. Our teams have the technology and the expertise to repair damaged servers, corrupt files, overwritten data tapes and all other storage devices while maintaining excellent security controls.
Our data repair tools include:
A Certified Class 10 ISO 4 Cleanroom
An Inventory of RAID Controller Cards and Hard Drive Components
Proprietary File Utilities for Various File and Database Formats
Data Tape Drives and Legacy Media Readers
Advanced Networks and Encryption for Protecting Recovered Files
We specialize in treating large servers and virtual devices. Secure Data Recovery Services regularly works with data centers, and we understand the importance of fast turnaround times and excellent security. Our turnaround options give data centers an essential tool for avoiding downtime after a major disaster, and we offer local drop-off and pickup services for enterprise-level systems through our large network of offices.
By investing in our facilities, we maintain an overall success rate of 96 percent. Our team-based approach ensures that each case gets the best possible treatment, and we protect all of our clients with a no recovery, no charge policy.
What to Do When Storage Media Fails
All data storage devices can fail. Even if you have a strong backup plan in place, user error and unexpected environmental disasters can occur without warning, leaving your users without access to important files. You can improve your chances of a successful recovery by immediately turning your system off and contacting a qualified data recovery provider.
When you need hard drive data recovery, RAID repair or any other advanced media service, Secure Data Recovery Services can help. We offer a comprehensive set of options for IT specialists, data centers and other professionals, and our low rates allow for easy budgeting. We can also create contracts to coordinate our purchasing process with your business's practices. When you work with Secure Data Recovery Services, you get guaranteed results with a flexible set of case options and best-in-class customer service. To get started or for more information about our programs and rates, call our 24/7 toll-free line at 1-800-388-1266.