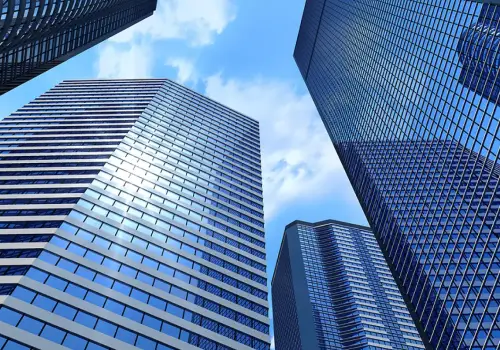 Enterprise Data Recovery Services from an Industry Leader
Secure Data Recovery Services offers a capable set of hardware repair and data recovery options for enterprise-level systems. As the world's most trusted provider, we deliver exceptional results with the security that your business needs to maintain compliance while drastically reducing downtime.
Enterprise-level systems require dedicated attention from knowledgeable data recovery engineers.
Our customers rate our services:
We Helped Thousands Get Their Lost Data Back.
With over 5,331 satisfied customers and growing, we are proud to provide outstanding customer experience and quality service that consistently exceed customer expectations.
View All
Data tapes, RAID arrays and other mission-critical storage devices can fail at any time, leaving your company without access to crucial data.
Some of the most common reasons for file loss on enterprise systems include:
RAID Failures and Rebuild Issues
Damage to Hard Drives, Solid-State Drives and Other Media
Accidental File Deletion, Formatting and User Error
Media Wear and Storage Issues
Fire, Smoke and Water Damage
At Secure Data Recovery Services, we specialize in enterprise data recovery. Our engineers have experience with all types of digital storage devices, and we regularly invest in our facilities to ensure the highest possible recovery rates.
Security is important to larger businesses, and we always take appropriate steps to maintain our clients' confidentiality. Secure Data Recovery Services was the first provider to earn a SSAE 18 Type II Certification, and with additional compliance credentials for other standards, we can help any enterprise-level business maintain strong security controls when contracting professional data recovery.
We also offer risk-free media evaluations and an assortment of confidential, specialized services for every type of storage device. Contact our customer service team to start a case or for more information.
What to Do When an Enterprise Storage System Fails
If your storage system fails, you need to take appropriate actions to minimize damage. Never attempt to rebuild a damaged RAID array if a previous attempt has failed. This can cause corruption and permanent data loss under some circumstances. By keeping your array powered down, you will drastically increase your chances of a fully successful recovery.
For the best possible results, you should find an experienced data recovery provider and schedule a media evaluation as soon as possible. Secure Data Recovery Services offers free diagnostics for RAID arrays, hard drives and all other digital devices. By performing several tests in a certified Class 10 ISO 4 Cleanroom, we can provide you with a detailed price quote and turnaround estimate.
We treat every enterprise system as a priority. Secure Data Recovery Services uses industry-leading security practices, and whether you need to retrieve files from a RAID array or any other high-capacity device, we give you the results that you need for excellent peace of mind.
Flexible Data Recovery Options for Enterprise Storage Systems
When your business needs fast, reliable data recovery, our dedicated engineering teams can help. We have the experience to quickly treat hard drive issues, RAID failures and other data loss disasters, and we back all of our services with risk-free diagnostics and an excellent set of security credentials.
Secure Data Recovery Services offers:
Same-Day 24/7/365 Emergency Services
Full RAID Recovery and RAID Repair Services
A 96 Percent Success Rate for Enterprise Storage Systems
Flexible Service Options and Fast Turnaround Times
Secure Data Recovery Services offers a flexible set of service options to meet the needs of our enterprise data recovery clients. If you need to quickly restore a damaged server or storage device, our onsite options help you avoid compliance issues while ensuring the fastest possible results. We also offer remote data recovery in many cases, and our 24/7/365 in-lab emergency data recovery service provides an outstanding average turnaround of less than 48 hours. All of our services feature perfect security and a no recovery, no charge guarantee. To get started, call us today at 1-800-388-1266.
Enterprise Data Recovery Reviews
Paul Jennette
Reviewed on Nov 16, 2022 | Freeville, NY
The IT department at my office recommended Secure Data Recovery for a failed external hard drive, and I'm so glad I followed their advice! Jake Gambatese, the customer service rep assigned to my case, was very friendly, professional, and willing to answer my questions. The whole process, from shipping the drive to SDR to getting the data back on a new solid state drive, went smoothly and much fa... Read Morester than I had expected. While I must admit I was initially shocked by the cost, after looking into it I realized it was both justified and consistent with the market. Getting all those "lost" files back was worth every penny.
Thanks, Jake and SDR!
Charles Rocha
Reviewed on Sep 15, 2022 | Arlington Heights, IL
I want to thank the team at Secure Data Recovery (Scott) for an amazing effort to recover all our data from a recent hard drive crash. The team was professional, knowledgeable, and compassionate about our issue. Scott and his team provided clear objectives, and instruction regarding the recovery process. Scotts team allowed us time to review their findings and verify our information before proce... Read Moreeding with the recovery. Scott and the team went above and beyond with timely status updates, clear and concise communication, and over all technical support. I am very happy with our recovery results, and I highly recommend Secure Data for all your recovery needs.

Lastly, a shout out to the entire Secure Data team, I appreciate all your professional effort from start to finish. Thank you!

Charles P. Rocha
Director Of Technology
Saint Viator High School


John Chesshire
Reviewed on Oct 13, 2020 | Fullerton, CA
What a pleasure it has been working with Secure Data Recovery, specifically Chris McMackin My point of contact. I am the Broker and President of The Shire Real Estate Group. When Our server crashed we thought it was the end of our accounting world. We had over 21 years of data stored on it with our property management records and well as the company''s Quickbooks data. Chris helped me understand ... Read Moreand explained the recovery process. Direct and to the point was what I asked for and that was what I received. Chris under promised and over delivered. I highly recommend this company for great customer service and a quality return of our data.
Stacy B
Reviewed on Oct 13, 2020 | Etters, PA
Chris McMacken and the SDR team were incredible. I''ve been in the IT field for 22-years and without a single doubt, can say, I''m impressed with SDR. Our old SQL server took a dive, at the same time our back-up server was completely full and did not capture the most recent .bak file from the server. Chris and his team were able to fully recover our 5 - SQL Dbs, along with critical data we needed.... Read More Chris'' Customer Service skills are top-notch, he is polite, understanding and responsive. The SDR drive arrived and we were able to successfully recover our critical data. Many thanks to the SDR team for their great support. Bravo!
Connie Koch
Reviewed on Sep 14, 2020 | La Quinta, CA
We were hacked by ransomware and lost everything. Even our backups were deleted. I sent the backup drives to another data recovery company and they were not able to get any data off of them. Then I saw the Secure Data Recovery website and it that said they could recover data when other companies couldn''t. And they were right. The were able to get the most recent backups from the deleted data and ... Read Moresaved our company. Jeff Hart was honest and patient and knowledgeable. He helped me through the recovery every step of the way. I completely and fully recommend Secure Data Recovery.
John Boyes
Reviewed on Aug 04, 2020 | Bristow, VA
Chris provided and outstanding experience during my data recovery process. He fully explained the process that would take place. He worked with me and Secure Data Recovery to achieve a cost effective solution to my problem that resulted in a 100% recovery of my RAID 5 system. I plan to recommend Secure Data Recovery in the future to others needing their service.