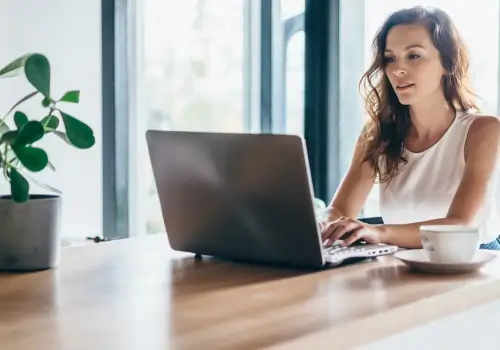 How to Identify Laptop Drive Information
The storage drive is the center of your laptop which processes every byte of data. Understanding its key parameters and learning how to check normal operating limits can help you keep your photos, videos and documents from being lost forever.
The staples of any laptop drive are its capacity, interface, file system, partition info, and drive free space. Depending on the operating system and its version, the exact steps for accessing drive attributes will vary. Most modern ones are outlined below:
How to Check Hard Disk Type on Windows 10 & 11
Press Windows Key + R

Type MSINFO32 and click "ok" or Enter

Components > Storage > Drives (standard info) or Disks (detailed info)
How to Check HDD in Earlier Windows Versions
Start > Control Panel

Systems and Maintenance > Device Manager > Disk Drive
How to Check Hard Drive in macOS Monterey 12, Big Sur, Catalina, Mojave
Open disk utility in the Utilities folder in Applications

Select the drive and click "Info Button" in the toolbar
How to Check Hard Drive Type in macOS High Sierra
In the Disk Utility, navigate to the disk in the list at the left, drill into the "Info button" inside the toolbar
Understanding the Key Laptop Drive Attributes
Disk Capacity:
Disk capacity is the maximum amount of storage space on a particular hard drive, generally measured in gigabytes or terabytes. Disk capacity can determine how best to use a particular drive. Drives with high disk capacity work well for storing backups or archiving images, video, audio, or other large files.
Disk Interface:
This refers to the type of physical and logical connection between your hard drive and your computer. Most modern laptop computers use a serial advanced technology attachment (SATA) for HDD devices. SSD device interfaces include SATA, mSATA, and M.2.
Some laptops combine HDD and SSD devices and might feature multiple interfaces. SATA devices connect via a cable in the drive bay. mSATA and M.2 SSD devices connect via sockets located directly on the motherboard.
File System:
Your hard drive's file system refers to the way files are named and organized on the drive for efficient storage and retrieval. Each operating system (OS) – Microsoft Windows, macOS and Linux-based systems – has its own file system conventions.
Partition Information:
A drive partition is a logical division or separation within a storage drive that has the appearance of a separate physical drive. For example, your laptop hard drive might have multiple drive letters (C:, D:, E:, etc.), but each of these is simply a partition within a single drive.
Partitions serve several purposes, but a main one is identifying an area, usually designated on Windows computers as C:, where the operating system can create a root directory where it installs all of its files.
Partitions can be allocated or unallocated. An allocated partition has been designated for use. Programs can write to the space in an allocated partition. Unallocated partitions have not been assigned for use, so the space they contain cannot be used by programs.
Drive Free Space:
Free space refers to the amount of available storage you can still access on your hard drive. Keeping track of available free space is important for determining if you have room for new programs, and if you're approaching the maximum recommended storage parameters. It is generally recommended that users leave at least 15% to 20% of their drive capacity free for optimal drive performance and for disk maintenance such as defragmentation.
Does Your Laptop Have SSD or HDD Storage?
Understanding your laptop's disk type will help you learn how to properly maintain it and check its health status.
Windows OS
Press Windows Key + R
Type DFRGUI and click "ok" or Enter
The media type column will show if your laptop has a solid-state drive or an HDD pinning disk.
macOS
Click the Apple Logo in the top left corner
Select About this MAC > Storage
Select About this MAC > Storage
Below the disk drive icon, a detailed description such as hard drive or flash storage (SSD) will be displayed.
How to Check the Health of Your Laptop SSD or Hard Drive
Manufacturer Tools
One of the best ways to fix errors and check the status of your laptop drive is through the use of manufacturer utilities such as Seagate SeaTools, Western Digital Dashboard Utility, Toshiba's Storage Diagnostic Tool, the Samsung Magician, OCZ SSD Utility, the Intel Memory and Storage Tool, the Crucial Storage Executive, and the Kingston SSD Manager.
SMART
Most modern laptop hard drives support SMART, which stands for Self-Monitoring, Analysis, and Reporting Technology. This monitoring tool allows users to check the health of their drives over time to identify any signs of potential failure.
SMART can evaluate drive attributes such as the number of reallocated sectors, any reported uncorrectable errors, and command timeouts, among others. You can access this information in Windows 10 by typing "Performance Monitor" in the search box and then open the utility.
HDDScan
This free software tool provides diagnostics for hard drives and other storage devices. Users can scan storage devices for the presence of bad blocs or bad sectors, display certain SMART attributes, and modify some HDD parameters.
Windows Command Prompt
Windows users can use the built-in Command Prompt to access information about the health of a laptop drive. Click the Start button at the bottom left of your screen, type CMD, and then type the command: wmic diskdrive get status.
Optimization & Defrag Utility
Probably the easiest way to check your drive's health is to run the built-in Windows Defrag and Optimization app. The defrag (defragmentation) process rearranges the data stored on hard drives in a clean and sequential order. This increases your drive's health and improves the laptop's performance.
You can access the app on your Windows laptop by navigating to the Start icon in the left corner of your screen and typing "defrag" > Defragment and Optimize Drives >> Optimize and start the process.
IMPORTANT! Take care not to run defrag on SSD drives. Unlike spinning hard drives, they do not require it. Furthermore, running defrag on SSD laptop drives will dramatically reduce their lifespan since it will add unnecessary read/write cycles on the memory cells.
Signs of a Failing Laptop Drive
Your laptop might experience one of several symptoms of failure that could lead to data loss. Here are some of the more common warning signs that your laptop or internal storage drive is at risk of failure:
Frequent freezing or crashing
Clicking, whirring, or any other unusual sounds when the drive spins up
The smell of burning electronics
Excessive fan noise
Failure of the operating system to boot
Laptop won't mount or recognize attached media
Power issues
Laptop can't boot past BIOS
Windows' "blue screen of death" or BSOD
What to Do If a Laptop Hard Drive Fails
Turn off your computer immediately if you experience any warning signs of imminent failure or if you can no longer access your data. Continued use can cause additional damage and lead to permanent data loss. If your laptop becomes unresponsive, press and hold the power button for at least 10 seconds or until the screen turns off.
Make sure to document any unusual symptoms preceding your laptop failure. This might include specific error codes, sounds, physical trauma, accidental spills, or any of the symptoms listed above. The more information you're able to provide about how your laptop failed, the quicker our expert engineers can diagnose and successfully restore your lost data.
If you have previous experience, you might be inclined to remove your internal laptop hard drive yourself. That's fine. If you've never done this before, we recommend that you leave the drive in place. Contact Secure Data Recovery Services, and we can arrange free in-bound shipping, a comprehensive diagnostic, and a no-obligation price quote for successful data recovery.