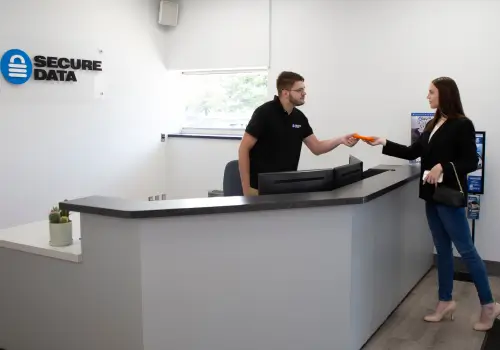 Data Recovery Services in South Carolina - RAID, SSD & Hard Drive Recovery
With offices throughout the United States, Secure Data Recovery Services provides South Carolina with dedicated file recovery and media repair resources. We specialize in hard drive data recovery, and our excellent security credentials ensure a controlled process with guaranteed results.
File loss and computer hardware issues present significant challenges for South Carolina businesses every year. The state's 4.7 million residents depend heavily on hard drives, web servers and other computer systems, and when important files are suddenly inaccessible, computer users need to quickly rebuild or restore the missing data.
Expert Data Recovery Services
Secure Data Recovery Services is the authority in Hard Drive Recovery, SSD Recovery and RAID Recovery. Since 2007, our data recovery company has helped tens of thousands of individuals and businesses of all sizes successfully recover from every type of data loss scenario. We understand the importance of data in the modern world and with our Economy, Standard and Emergency Data Recovery Options and state-of-the art technology we are ready to get your lost data back right now.
Experience total piece of mind with a "No Data, No Recovery Fee" Guarantee.
What Can We Recover For You Today?
Advantages of our South Carolina data recovery services:
Support for All Hard Drives and Solid State Drives
Options for Data Tape Repair and RAID Data Recovery
Safe Data Recovery with Guaranteed Results
Easy Access Through a Network of Offices
An Extensive Set of Security Credentials
Online Case Lookup Tools and More
We provide free standard diagnostics for all types of digital storage devices including hard drives, solid-state drives and more. After receiving your media, our specialists will perform a detailed evaluation that presents you with a full price quote and an estimate for the turnaround time of your case. You will also benefit from our no recovery, no service charge guarantee. Call our customer service team today to get started.
Efficient Access to Advanced Hard Drive Repair Technology
Data repair is an extremely specialized process, and Secure Data Recovery Services offers the most comprehensive resource available for South Carolina data recovery. Our teams can perform RAID repair, data tape repair, solid-state drive repair and other advanced services, often returning a full copy of your data in less than a day under our 24/7/365 emergency service.
All of our services feature best-in-class success rates thanks to our regular investments in new data recovery technologies. Secure Data Recovery Services was the first company in the industry to open a certified Class 10 ISO 4 Cleanroom, which allows for safer hard drive repairs, and we treat every case with specialized file utility tools optimized for various types of operating systems.
As the industry's most secure data recovery provider, we also maintain a full set of credentials including a SSAE 18 Type II SOC-1 certification. We are a member of the General Services Administration (GSA) contractor schedules, and we proudly provide an exceptionally safe resource for South Carolina businesses and government institutions. When you send your device to our facilities, your data will remain secure throughout your case process.
What to Do When You Cannot Access Important Data
In order to prevent accidental damage, you should turn your computer system off as soon as you notice signs of media damage. Never attempt to operate a storage device in a failed state, as this can permanently affect your data.
Some of the most common signs of media damage include:
File Corruption Error Messages
Missing or Unreadable Files
Unusual Sounds Including Whirring or Clicking Noises
Signs of Overheated Electronics
System Will Not Power On
You can improve your chances of a successful recovery by keeping your system powered off. Set up a free evaluation as soon as possible and keep a full list of any symptoms that occurred prior to the failure.
At Secure Data Recovery Services, we offer data recovery options for virtually every type of media failure. Our teams have access to state-of-the-art technology, and we offer an outstanding overall repair rate of 96 percent. By following strict security protocols, we offer the best resource available for South Carolina data recovery, and our network of offices provides for efficient, safe results. To get started, call our customer service team today at 1-800-388-1266.
Secure Data Recovery Process
1
Free
Consultation
Power down the device and call us, 24x7 for a free consultation and quote.
2
Free Professional Diagnostics
Submit your device at one of our locations for a non-destructive evaluation by a data recovery expert.
3
Review &
Decide
Review the diagnostic results and approve the work order at a set price, payable upon success with our "No Data, No Recovery Fee Guarantee".
4
Data Recovery & Return
Submit payment and receive your recovered data on a new external drive.