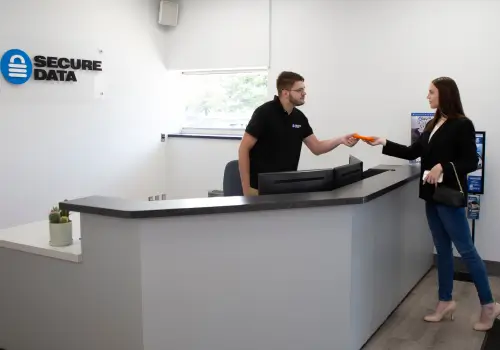 Data Recovery Services in District of Columbia - RAID, SSD & Hard Drive Recovery
Secure Data Recovery Services provides a dependable source for hard drive data recovery, RAID repair and other media services through an office in Washington D.C. As one of the top data recovery companies in the country, we deliver safe and secure results for our clients in the District of Columbia.

Washington D.C. is the capital of the United States and boasts a strong economy, largely fueled by tourism and the federal government. The District has more than 5.7 million residents in its metropolitan area, and since 2007, Secure Data Recovery Services has provided local computer users with an excellent set of data recovery options.
Expert Data Recovery Services
Secure Data Recovery Services is the authority in Hard Drive Recovery, SSD Recovery and RAID Recovery. Since 2007, our data recovery company has helped tens of thousands of individuals and businesses of all sizes successfully recover from every type of data loss scenario. We understand the importance of data in the modern world and with our Economy, Standard and Emergency Data Recovery Options and state-of-the art technology we are ready to get your lost data back right now.
Experience total piece of mind with a "No Data, No Recovery Fee" Guarantee.
What Can We Recover For You Today?
We comply with all of the Better Business Bureau's standards of consumer service, maintaining accreditation and an A+ rating.
BBB Accredited Company with an A+ Rating
Accreditation with the BBB comes with numerous advantages and requirements, along with regular monitoring. Our strong record of compliance with their high standard is detailed in our latest report from the BBB.
When your hard drive fails or your RAID stops responding, you need fast help. At Secure Data Recovery Services, we understand storage media, and we take pride in our exceptional 96 percent success rate.
Our specialists are ready to help you avoid permanent data loss. With 24/7/365 emergency services and numerous security credentials, we are uniquely qualified to help you make a recovery plan, and we offer a full no recovery, no charge guarantee with every case. To get started, contact our customer service team today.
What to Do When a Digital Storage Device Fails
Digital devices can take permanent damage after an initial hardware failure. For the best chances of a completely successful recovery, you should keep your computer powered down as soon as you notice symptoms of data loss. Do not attempt to repair your device. Never use any file utilities or data recovery software, as you might unintentionally overwrite data.
Bring your media to our Washington D.C. office. Secure Data Recovery Services' engineering teams have the experience to treat virtually any type of digital storage device effectively, and unlike other providers, we maintain a strict set of security credentials to protect our clients' confidentiality.
We can treat all failure scenarios including:
Hard Drive Head Crashes and Other Mechanical Failures
Electronic Damage
Fire, Smoke and Water Damage
Accidental Deletion and Formatting
RAID Rebuild Failure
Virus Damage, Operating System Failure and More
Our District of Columbia office provides risk-free evaluations, which include a price quote and turnaround estimate. We also offer pick-up services for 24/7/365 emergency data recovery cases in the District, and our local office accepts drop-offs.
An Advanced Data Recovery Resource for the District of Columbia
Secure Data Recovery Services maintains a number of credentials to show our commitment to our clients, and as one of the nation's top data recovery providers, we invest heavily in research and development to provide excellent results. We are a member of the General Services Administration contractor schedules and offer a dependable data recovery resource for government and military offices in the District of Columbia. Secure Data Recovery Services also holds SSAE 18 Type II certification and numerous compliance credentials.
Advantages of Secure Data Recovery Services in Washington, D.C.:
Risk-Free Media Diagnostics for All Standard Data Recovery Cases
A 96 Percent Success Rate
Multiple Turnaround Options and 24/7/365 Emergency Services
Advanced Virtual Server Data Recovery and RAID Services
The Industry's Most Advanced Hard Drive Data Recovery Laboratory
For hard drive data recovery, RAID data recovery, data tape repair and other professional media services, you need trustworthy results from a local company. Secure Data Recovery Services' District of Columbia office is the best professional data recovery resource in the Washington D.C. metropolitan area. To set up a new case or for more information regarding our technology and credentials, call our customer service team today.

Secure Data Recovery Process
1
Free
Consultation
Power down the device and call us, 24x7 for a free consultation and quote.
2
Free Professional Diagnostics
Submit your device at one of our locations for a non-destructive evaluation by a data recovery expert.
3
Review &
Decide
Review the diagnostic results and approve the work order at a set price, payable upon success with our "No Data, No Recovery Fee Guarantee".
4
Data Recovery & Return
Submit payment and receive your recovered data on a new external drive.