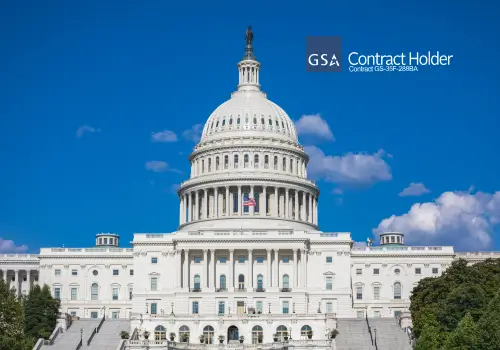 Professional Data Recovery for Government Institutions
Secure Data Recovery Services offers a comprehensive set of data recovery, data transfer and media repair services for government institutions through a network of more than 40 facilities. With advanced technology and reliable success rates, we give you a reliable and secure resource with affordable prices.
As a GSA-certified data recovery company, we regularly provide our services for the United States government and military.
Many government and military workers use digital storage devices on a daily basis, and a sudden media failure can mean downtime and lost productivity. Unfortunately, data loss affects thousands of government offices each year, including many institutions with well-maintained backup systems.
Some of the most common data loss scenarios include:
Hardware Failures and Media Damage
Electronic Damage
Accidental Deletion, Formatting and User Error
Damage from Viruses and Malicious Software
Fire, Smoke, Water and Environmental Damage
File Corruption
Our engineers can quickly repair damaged storage devices, restoring access to mission-critical files in a matter of days. Unlike many of our competitors, we offer flexible service options including 24/7/365 emergency services, and all of our services feature a no recovery, no charge guarantee.
Please see the links below to verify our commitment to the GSA schedules program:

Secure Data Recovery GSA Advantage Profile
Verify our GSA Advantage Profile
Purchasing is often a major issue for government institutions. Secure Data Recovery Services accepts purchase orders, and as a member of the General Services Administration (GSA) contractor schedule and a CAGE Code-registered business, we make the purchasing process easy for our government clients. We are Wide Area Workflow (WAWF) approved, and our billing department works closely with your office to minimize turnaround times.

GSA Contract: GS-35F-288BA
Cage Code: 6BP27
DUNS: 796906209
NAICS: 541512
Most importantly, we offer consistent results for our clients. Our engineers maintain an excellent overall success rate of 96 percent and use a streamlined case process to provide affordable rates. Contact our customer service team today for a free media evaluation or read on for more information about our services.
An Advanced Resource for Professional Media Services
Data recovery is a highly specialized service, and we take pride in our comprehensive service offerings. Our teams can treat failed RAID arrays, solid-state drives, hard drives, flash drives, optical media, data tapes and virtual devices. We maintain our position as an industry leader by investing in our facilities, and we can recover data from any type of digital device while maintaining excellent security controls.
We specialize in hard drive data recovery. Secure Data Recovery Services was the first provider to open a certified Class 10 ISO 4 Cleanroom, which allows for safer media repairs, and our engineers have experience with all operating systems and file systems.
Our facilities also provide RAID repair, data tape transfer and other advanced media services. Whether you need to access data on a failed hard drive or you want a secure way to convert to a new storage system, Secure Data Recovery Services can help.
What to Do When a Digital Storage Device Fails
Many government offices depend on complex storage devices, and data loss causes immediate issues with workflow and productivity. When you lose access to important files, you should take care to prevent accidental media damage; do not operate the failed device for any reason. Never run data recovery software or file corruption utilities. If you lose files from a RAID server, you should not attempt to repair or rebuild the array.
Turn your system off and contact a professional data recovery company as soon as possible. At Secure Data Recovery Services, we offer risk-free diagnostics for our government clients. We can provide your office with a complete price quote and turnaround time by performing several simple, non-destructive tests. If you decide to use our services, we provide a no recovery, no charge guarantee to give you peace of mind as your case progresses.
Advantages of Secure Data Recovery Services:
More Relevant Security Credentials Than Any Other Provider
Flexible Service Options Including 24/7/365 Emergency Data Recovery
Excellent Purchasing Options for Government Clients
Certified GSA Contractor with CAGE Code and WAWF Approval
SSAE 18 Type II Certification and Various Compliance Certifications
Experienced RAID Data Recovery and RAID Repair Engineers
Online Case Monitoring Tools and More
Secure Data Recovery Services offers the most reliable data recovery option for government institutions. With hassle-free purchasing, state-of-the-art technology and regularly updated security systems, we deliver the reliable results that you need to eliminate unnecessary downtime while quickly restoring mission-critical systems. Start a new case today by calling our 24/7 customer service line at 1-800-388-1266 and ask about our discount programs for government clients.