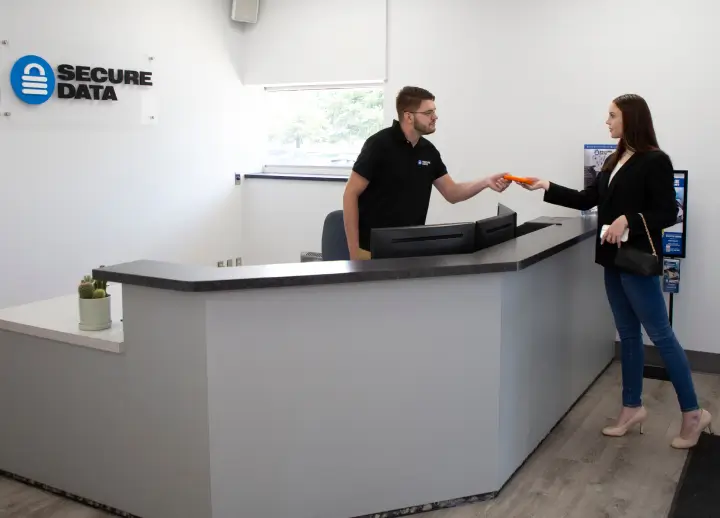 Expert Hard Drive Data Recovery and RAID Repair for South Dakota
Secure Data Recovery Services provides comprehensive data loss resources for businesses and personal computer users in South Dakota. With a series of offices throughout the United States and the industry's best technology, we can safely treat all digital storage devices including hard drives, RAID arrays, flash media and more.
South Dakota is best known for its natural beauty and its prominent agricultural industry. The state is also a major military center, and thanks in part to its favorable tax climate, a number of major businesses have established their presence in South Dakota over the past several decades.
Expert Data Recovery Services
Secure Data Recovery Services is the authority in Hard Drive Recovery, SSD Recovery and RAID Recovery. Since 2007, our data recovery company has helped tens of thousands of individuals and businesses of all sizes successfully recover from every type of data loss scenario. We understand the importance of data in the modern world and with our Economy, Standard and Emergency Data Recovery Options and state-of-the art technology we are ready to get your lost data back right now.
Experience total piece of mind with a "No Data, No Recovery Fee" Guarantee.
What Can We Recover For You Today?
For South Dakota computer users, sudden data loss can have an immediately devastating effect. Secure Data Recovery Services' teams can rebuild damaged storage media, restoring essential data to a working state in a matter of days.
Features of Secure Data Recovery Services:
24/7/365 Emergency Same-Day Options
Support for Hard Drives, RAID Arrays and More
Around-the-Clock Customer Service
Online Tools for Fast Case Updates
Free Standard Evaluations for All Devices
Easy Access for South Dakota References Through Multiple Offices
We provide free standard diagnostics for South Dakota data recovery cases. Every diagnostic report includes an analysis of the factors that led to the initial media failure along with a price quote, and we offer several turnaround options to keep your case within your budget and time frame. Call us today to get started or for more information.
Finding a Reliable Provider for South Dakota Data Recovery
Data recovery is an intensive process that requires specialized tools, and most computer repair companies cannot repair hard drives and other sensitive electronic storage media without causing accidental damage.
For years, Secure Data Recovery Services has provided an expert resource for South Dakota residents by developing new technologies to treat various media failure scenarios effectively. We operate a certified Class 10 ISO 4 Cleanroom, which protects media from potentially dangerous contamination while our engineers repair damaged components. Our engineers have experience with various operating systems and file systems, and because our facility features an expansive hardware library, we offer advanced options for RAID repair, data tape recovery and more.
South Dakota businesses also benefit from our excellent IT security systems, which are certified under strict SSAE 18 Type II SOC-1 standards. We protect your data throughout our case process, and as a member of the General Services Administration (GSA) schedule, we can treat cases for military institutions and other high-security clients.
By investing in the latest technologies, Secure Data Recovery Services has built a strong reputation as an industry leader. We support all of our South Dakota data recovery services with a comprehensive guarantee; we will not assess a service charge if we cannot recover your data in a fully functional condition.
What to Do When You Lose Access to Important Data
We do not recommend running your device under any circumstances, as this can cause permanent media damage. Turn your computer off. This is particularly important if you need to retrieve data from a hard drive. The hard drive's internal components may have failed, and any attempt to run the drive could lower your chances of a completely successful recovery. Never run any type of software on a damaged device, even if you can identify the source of the failure.
Some of the most common failure symptoms include:
Clicking Sounds or Other Unusual Noises
Unusual Error Messages
File Corruption
Unexpected Changes in Directory Listings
Failed RAID Rebuild Attempts
Physical Signs of Electronic Damage
Our team can quickly diagnose your device, identifying any sources of damage and providing you with a full recovery report with a price quote. We offer several turnaround options, including a same-day emergency service, and all of our services feature the industry's best no data, no recovery fee guarantee.
Secure Data Recovery Services is proud to provide the best options available anywhere for South Dakota data recovery and media repair. With high success rates, fast turnaround times and support for all digital devices, we deliver dependable results for all of our customers. To get started, call us today at 1-800-388-1266 to speak with a file recovery expert.
Secure Data Recovery Process
1
Free
Consultation
Power down the device and call us, 24x7 for a free consultation and quote.
2
Free Professional Diagnostics
Submit your device at one of our locations for a non-destructive evaluation by a data recovery expert.
3
Review &
Decide
Review the diagnostic results and approve the work order at a set price, payable upon success with our "No Data, No Recovery Fee Guarantee".
4
Data Recovery & Return
Submit payment and receive your recovered data on a new external drive.