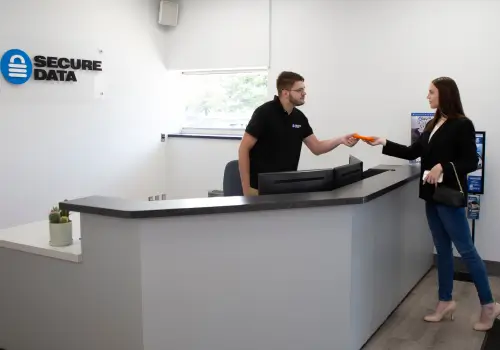 Data Recovery Services in Rhode Island - RAID, SSD & Hard Drive Recovery
Secure Data Recovery Services provides data recovery solutions for the state of Rhode Island through a network of New England offices. We invest heavily in our state-of-the-art media repair laboratory, and our engineers can safely retrieve files from virtually any damaged computer or storage device.
The smallest state by area, Rhode Island is very densely populated, and it boasts one of New England's largest per capita economies. Businesses depend heavily on computer systems for day-to-day activities, and Secure Data Recovery Services provides an important resource for Rhode Island computer users by offering solutions to sudden system failures.
Expert Data Recovery Services
Secure Data Recovery Services is the authority in Hard Drive Recovery, SSD Recovery and RAID Recovery. Since 2007, our data recovery company has helped tens of thousands of individuals and businesses of all sizes successfully recover from every type of data loss scenario. We understand the importance of data in the modern world and with our Economy, Standard and Emergency Data Recovery Options and state-of-the art technology we are ready to get your lost data back right now.
Experience total piece of mind with a "No Data, No Recovery Fee" Guarantee.
Recovery Services We Offer
Some common failure scenarios include:
Hard Drive Failures and Crashes
Accidental Deletion and File Overwrites
Damage from Malicious Software
Fire Damage and Other Environmental Damage
Electronic Damage
RAID Failures and Rebuild Errors
Our teams can rebuild damaged hard drives, solid-state drives and other devices, restoring missing files while utilizing advanced security controls. We can often return a working copy of your files in less than 24 hours under our 24/7/365 emergency service, and we offer several other flexible turnaround options to keep your case within your budget.
Secure Data Recovery Services also provides the industry's most comprehensive guarantee: if we cannot recover your files, we do not process a service charge for your case. With risk-free standard diagnostics, certified security and an overall success rate of 96 percent, we proudly offer the best available option for Rhode Island data recovery. Call today to get started.
What to Do When a Digital Storage Device Stops Functioning
For many Rhode Island computer users, data loss occurs instantaneously. If your computer will not respond or if you cannot open important files, immediately shut down your system. Do not use data recovery software, as you might accidentally overwrite key data or cause additional media damage by operating your system in a failed state.
Never attempt to open a damaged device. Keep your computer completely powered off to preserve your files in their original state and contact our customer service team as quickly as possible.
Secure Data Recovery Services provides free diagnostics for hard drives, solid-state drives and all other digital devices. We will analyze your media failure while keeping any active warranties intact, and our team will quickly provide you with a turnaround estimate and price quote. With offices throughout New England, we provide convenient access for our Rhode Island data recovery customers, and we always use excellent security procedures when performing evaluations.
The Most Reliable Resources for Rhode Island Data Recovery
Through our regular investments in our facilities, we have established a reputation as a leader in our industry. Secure Data Recovery Services was the first provider to open a certified Class 10 ISO 4 Cleanroom, which provides critical protection for hard drives during repairs. We also offer a full set of RAID data recovery and server repair solutions, which prevent downtime after major disasters.
Security is an important consideration when choosing a data recovery provider, and our exceptional controls provide peace of mind throughout the process. We hold a SSAE 18 Type II SOC-1 certification, and as a GSA certified provider, we offer an expansive set of options for Rhode Island government and military clients.
Other advantages of our services:
24/7/365 Emergency Data Recovery Option
Tools for Online Case Monitoring
Around-the-Clock Customer Service
Easy Access Through Offices in New England
Support for All Devices and File Types
Secure Data Recovery Services provides exceptional resources for Rhode Island data recovery, media repair and other advanced data services. All of our services feature next-generation technology and certified security, and thanks to our free diagnostics and no recovery, no service fee guarantee, you can regain access to important files without risking unnecessary expenditures. Call 1-800-388-1266 today to get started or for a detailed overview of our services.
Secure Data Recovery Process
1
Free
Consultation
Power down the device and call us, 24x7 for a free consultation and quote.
2
Free Professional Diagnostics
Submit your device at one of our locations for a non-destructive evaluation by a data recovery expert.
3
Review &
Decide
Review the diagnostic results and approve the work order at a set price, payable upon success with our "No Data, No Recovery Fee Guarantee".
4
Data Recovery & Return
Submit payment and receive your recovered data on a new external drive.