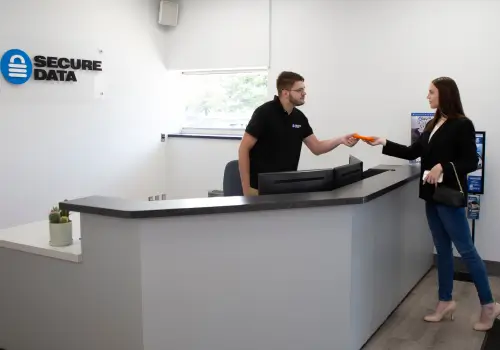 Data Recovery Services in Portsmouth - RAID, SSD & Hard Drive Recovery
Secure Data Recovery Services provides a dedicated option for RAID repair, mobile data recovery, hard drive data recovery, and other media services to New Hampshire. Our company is one of the most reliable data recovery services in Portsmouth. We have the equipment and the facilities to treat any media failure.
Our customers rate our services:
We Helped Thousands Get Their Lost Data Back.
With over 5,329 satisfied customers and growing, we are proud to provide outstanding customer experience and quality service that consistently exceed customer expectations.
View All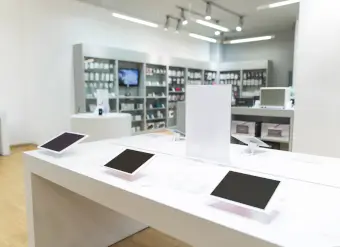 Secure Data Recovery Services
Emergency Services Available 24x7
Expert Data Recovery Services
Secure Data Recovery Services is the authority in Hard Drive Recovery, SSD Recovery and RAID Recovery. Since 2007, our data recovery company has helped tens of thousands of individuals and businesses of all sizes successfully recover from every type of data loss scenario. We understand the importance of data in the modern world and with our Economy, Standard and Emergency Data Recovery Options and state-of-the art technology we are ready to get your lost data back right now.
Experience total piece of mind with a "No Data, No Recovery Fee" Guarantee.
What Can We Recover For You Today?
Portsmouth, NH Data Recovery Reviews
Gideon Erkenswick
Reviewed on Sep 05, 2023 | BREWER, ME
Successful recovery of years of data
We contacted Secure Data Recovery when an external hard drive with nearly a decade of data stopped functioning. They helped us to work out a reasonable recovery solution within our grant research budget. They managed to salvage nearly all of our data despite finding significant internal damage to the disk. We are so grateful to their customer relations personnel and reliable technicians, and we st... Read Morerongly recommend them to others.
Stephanie Finnegan
Reviewed on Nov 15, 2022 | Moultonborough, NH
Thank you so much for your amazing work. I have been able to access all the "lost" files on the external drive, and am quite pleased with the results. It means so much to me to be able to have access to all these important photos and moments in my family''s life. I appreciate the professionalism and speed with which you were able to facilitate this process for me. I thank you for your service, an... Read Mored will recommend you to anyone I know who may be in a similar situation. I honestly thought I would never see these documents again. You are wonderful!
Adam Simoneau
Reviewed on Apr 15, 2020 | Manchester, NH
Elijah Robinson was my customer service representative and he was nothing short of AMAZING! From start to finish he was in constant contact with me. The team at Secure Data worked with me to recover data from my Western Digital external hard drive that had read/write head failures. I am extremely happy to say that every file on my corrupted hard drive was fully recovered. I am so grateful so the s... Read Moreervices ghat Secure Data provides and I would highly recommend them to anyone!!! Thank you Elijah & Team!!!
Suzanne Johnson
Reviewed on Mar 23, 2016 | Epping, NH
Rock stars work for Secure Data Recovery
Mitchell Moore is a rock star in a company that apparently has many good employees.

I had an external drive that crashed. Along with family photos and other personal information, it stored EVERYTHING I need for teaching and coaching. The drive was fairly new and rated as one of the best on the market, so silly me I had not been backing up data as frequently as I should. So when it cr... Read Moreashed, waves of panic interrupted my life. Literally, over fifteen years of work needed to do my job were locked inside the drive and I had no access. In stepped Mitchell Moore and Secure Data Recovery.

I looked on line for a reliable data recovery company. It was easy from reading reviews to see Secure Data Recovery was my best chance for getting back my files. I called and was so fortunate to be put in the hands of Mitchell Moore. Within a few minutes of speaking with Mitchell, I was descending from the edge of a huge cliff. Mitchell was professional and honest about my options and chances of accessing the data. He explained the process that would be undertaken to analyze the drive and what possibilities lay ahead. No question I asked was dumb or insignificant. Along with my case, I know Mitchell was dealing with multiple customers. His prompt and professional replies to my emails and phone calls always made me feel like I was his most important one. It was like Mitchell had been there too and was on a mission to make things right again. Mitchell even took extra steps to made sur
Curtis Martin
Reviewed on Apr 16, 2015 | Bow, NH
Secure Data Recovery Saves the Day!
When a less than 1 year old external drive failed, I thought I had lost years of memories! I had been working for 6 months trying to get more than 1 TB of photos, home movies and music files, that my father had accumulated over the last 20 years of his life, backed up to the cloud. I had copied all of the data from his old hard drive to the external drive so I could make copies for my siblings. ... Read More Then the external drive failed! Jeremy and the rest of the team at SDR stepped me through the process of saving all the data on the failed drive. Jeremy provided updates at every step and I had a fresh copy of all the data within 10 days! Many thanks, 5 stars!
Data Recovery Industry Leadership
Secure Data Recovery Services was first in the U.S. data recovery industry to install Class 10 ISO 4 Cleanrooms. We employ Apple Mac Certified technicians and are approved by major hardware manufacturers and vendors. We work on any type of digital equipment, device or media such as RAID arrays, hard drives, SSDs, memory cards, SIMs, tape, DVRs and more. We also repair and restore servers, desktops, laptops, mobile devices and networking equipment.
Safe, Confidential Data Management
Our facility and staff security credentials include 256-bit encrypted networks, EU-US Privacy Shield and PCI-DSS standards compliance plus SOC 1® and SOC 2® Under the Guidance of SSAE 18 audited. These, plus our stringent facility access controls, ensure your most sensitive data is completely protected.
Additional Professional Data Services
Besides data recovery, we specialize in a number of other valuable enterprise services including database and virtual server repair, media conversion, data migration, mobile data recovery and e-discovery.
Third-Party Verified Business Trust Certifications
Secure Data Recovery Services is proud to publically display our business operations certifications on our website including GSA/ISSA Approved Contractor, TRUSTe Verified, D&B Verified, BBB A+ Accreditation and our #1 Ranking by Top Ten Reviews.
No-Risk, No-Cost Media Evaluations
At the first indication of data loss, call us immediately for a free media evaluation before more damage can occur. We inform you of the media condition, details of what is recoverable plus several accurate service quotes from which to choose. Customers with urgent cases often select our emergency 48-hour turnaround service. All of our work is backed by the No-Recovery/No-Cost guarantee for which we are famous.
Call the Industry Leader for Experienced Data Recovery
In Portsmouth or at any of our Authorized Partner Locations in the U.S., Secure Data Recovery Services offers the most efficient, safe and effective data restoration service in the industry.
Our skilled customer service team awaits your call 24/7/365 at 1-800-388-1266 to answer your questions and start your free, confidential case evaluation.