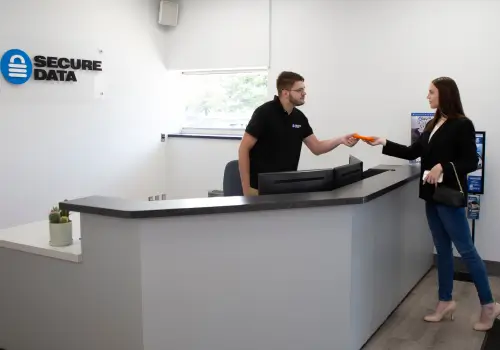 Data Recovery Services in New Hampshire - RAID, SSD & Hard Drive Recovery
With reliable success rates and the industry's best security credentials, Secure Data Recovery Services provides New Hampshire with superior options for file repair and data recovery. Our engineers can help retrieve crucial data following hard drive failures, application errors and other unexpected disasters, quickly restoring your files while maintaining your privacy.
New Hampshire is home to more than 1.3 million people, and the state is especially notable for its lack of personal income tax. Partially due to this limited burden, New Hampshire has a positive business atmosphere, and technology has driven economic development over the past several decades. Unfortunately, businesses that depend on data storage devices often face significant losses when hard drives and other storage devices fail.
Expert Data Recovery Services
Secure Data Recovery Services is the authority in Hard Drive Recovery, SSD Recovery and RAID Recovery. Since 2007, our data recovery company has helped tens of thousands of individuals and businesses of all sizes successfully recover from every type of data loss scenario. We understand the importance of data in the modern world and with our Economy, Standard and Emergency Data Recovery Options and state-of-the art technology we are ready to get your lost data back right now.
Experience total piece of mind with a "No Data, No Recovery Fee" Guarantee.
What Can We Recover For You Today?
Common media failure scenarios for New Hampshire residents include:
Personal Computer Crashes and Hard Drive Failures
Physical or Electronic Media Damage
File Corruption and Firmware Corruption
Excessive Wear for Flash Media
Overwrites and File Deletion
We serve our New Hampshire data recovery clients through a network of offices that includes locations in Massachusetts. Secure Data Recovery Services provides the state's most reliable resource for professional media repair and data recovery, and with free diagnostics and a no recovery, no service charge guarantee, we offer an affordable option for both businesses and personal computer users. Contact us today to get started.
Effective Options for Every Type of Data Loss Scenario
Because computer systems can encounter thousands of potential data loss events, Secure Data Recovery Services invests heavily in new research in order to provide a comprehensive resource for New Hampshire computer users.
Our engineers have experience with all operating systems including Windows, Mac OS X, Linux, Unix, Solaris and more. When a digital device is physically damaged, we perform repairs in the industry's first certified Class 10 ISO 4 Cleanroom, which prevents potentially harmful contamination. None of our methods will void active product warranties, and we deliver excellent results: our overall success rate stands at an outstanding 96 percent.
We also offer expansive New Hampshire data recovery options for businesses. Our server repair service helps to prevent downtime after a disaster, and we offer a full set of data tape repair and RAID data recovery solutions for every type of system.
Our teams use the same privacy controls when treating every case. We hold a SSAE 18 Type II SOC-1 certification, and all of our services are available for New Hampshire government and military offices through the General Services Administration (GSA) schedules. Whether you need files from a single hard drive or a large RAID system, Secure Data Recovery Services provides dependable assistance with exceptional security.
What to Do When Your Data Storage Device Fails
Regardless of the format or size of your storage device, the best course of action is to completely turn off your computer and to keep it powered down until you can speak with a data recovery expert. Any attempt to restore your files could cause additional damage, particularly if your device has sustained physical damage.
Likewise, you should not use data recovery or file repair software. By getting a professional media evaluation from Secure Data Recovery Services, you can get an accurate analysis of your options without risking your media.
Some of the advantages of our New Hampshire data recovery services:
Turnaround Options and Emergency Same-Day Services
Regular Updates and Online Case Monitoring Tools
Support for All Media Formats and File Types
Industry-Best Turnaround Times
A 96 Percent Overall Success Rate
We proudly offer our New Hampshire data recovery customers an excellent set of options, and with 24/7/365 emergency services and guaranteed results, we can stay within virtually any budget or time frame while delivering reliable results. Secure Data Recovery Services also provides risk-free standard diagnostics, and our engineering teams are ready to provide a fast analysis. Call 1-800-388-1266 to set up a case or for more information about any of our services.
Secure Data Recovery Process
1
Free
Consultation
Power down the device and call us, 24x7 for a free consultation and quote.
2
Free Professional Diagnostics
Submit your device at one of our locations for a non-destructive evaluation by a data recovery expert.
3
Review &
Decide
Review the diagnostic results and approve the work order at a set price, payable upon success with our "No Data, No Recovery Fee Guarantee".
4
Data Recovery & Return
Submit payment and receive your recovered data on a new external drive.