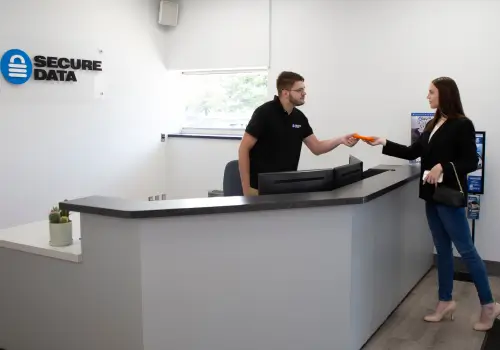 Data Recovery Services in Montana - RAID, SSD & Hard Drive Recovery
Secure Data Recovery Services provides Montana computer users with an exceptional set of data loss solutions with dependable security and high success rates. As the world's leading data recovery specialists, we can safely repair all digital devices including hard drives, RAID arrays, solid-state drives, flash media and more.
Montana has a wealth of natural resources and some of the most beautiful landscapes in the Western United States. Its economy is largely based on the industrial and energy sectors, and the state's largest city, Billings, is home to a number of major retail businesses. For many Montana residents, reliable computer storage is an absolutely essential part of everyday life.
Expert Data Recovery Services
Secure Data Recovery Services is the authority in Hard Drive Recovery, SSD Recovery and RAID Recovery. Since 2007, our data recovery company has helped tens of thousands of individuals and businesses of all sizes successfully recover from every type of data loss scenario. We understand the importance of data in the modern world and with our Economy, Standard and Emergency Data Recovery Options and state-of-the art technology we are ready to get your lost data back right now.
Experience total piece of mind with a "No Data, No Recovery Fee" Guarantee.
What Can We Recover For You Today?
Unfortunately, all types of digital devices occasionally fail due to mechanical issues, logical damage or for a number of other reasons. Secure Data Recovery Services' engineers can safely repair damaged computer media, restoring data in a matter of days in many circumstances.
Some of the features of our services include:
A 96 Percent Overall Success Rate
Multiple Service Levels Including 24/7/365 Emergency Services
Excellent Security Credentials and GSA Compliance
Advanced Technology for Safe, Reliable Results
Options for Data Tape Repair, Server Repair and More
Around-the-Clock Customer Service
We also provide free diagnostic services for all standard Montana data recovery cases. Our diagnostics include a full synopsis of your media failure, a price quote and an accurate turnaround estimate.
By giving you fast access to important case information, we provide an easy way to make an appropriate case decision without taking unnecessary risks. All cases also include a no data, no recovery fee guarantee. Call us today to get started or for more information.
What to Do When Your Computer Loses Data
For most computer users, data loss occurs suddenly. Hard drive failures and other common media issues typically happen in a few seconds, but depending on the source of the damage, your media could lose a substantial amount of additional data in the minutes following the failure.
To prevent hard drive platter damage and other issues, turn your computer completely off. This helps to keep your media in the best possible condition. Call our customer service team as soon as possible to discuss your data recovery options. Most devices are completely recoverable, and we are proud to offer a 96 percent success rate for our Montana data recovery clients.
Secure Data Recovery Services can complete many cases in less than 24 hours, and our goal is always to provide the best possible service while limiting your downtime following a computer disaster. Unlike many other providers, we can safely provide RAID data recovery, data tape repair, and other advanced services without putting your media at risk, and our engineers follow strict SSAE 18 Type II SOC-1 standards when treating every case to protect your privacy.
Choosing a Professional Montana Data Recovery Provider
Data recovery is a specialized process, and in order to treat modern systems, Montana data recovery companies need an advanced set of tools and expert knowledge.
Our laboratory features a certified Class 10 ISO 4 Cleanroom, specially designed to prevent media contamination during hard drive repairs, RAID data recovery and other advanced procedures. We also build proprietary file utilities in our laboratory, and our engineers have decades of combined experience with all file systems and device types.
With the latest media repair technology and verified security credentials, Secure Data Recovery Services provides an excellent option for file recovery and media repair. Our engineers can treat virtually any failure scenario while managing turnaround time and costs, and because we closely control security at each of our facilities, we offer superior results for Montana businesses, hospitals and government institutions.
Secure Data Recovery Services can safely treat all data loss scenarios including:
Server and Storage System Rebuild Issues
Accidental Deletion and File Overwrites
Corruption and Operating System Issues
Virus Damage
Fire, Smoke, and Water Damage
Hard Drive Failures and More
By working with a data recovery leader, you can quickly regain access to critically important files without putting your media at risk. Secure Data Recovery Services delivers exceptional results in every case, and our superior security credentials give you peace of mind throughout the case process. To set up a free evaluation for a hard drive, RAID array or any other computer storage device, call us today at 1-800-388-1266.
Secure Data Recovery Process
1
Free
Consultation
Power down the device and call us, 24x7 for a free consultation and quote.
2
Free Professional Diagnostics
Submit your device at one of our locations for a non-destructive evaluation by a data recovery expert.
3
Review &
Decide
Review the diagnostic results and approve the work order at a set price, payable upon success with our "No Data, No Recovery Fee Guarantee".
4
Data Recovery & Return
Submit payment and receive your recovered data on a new external drive.