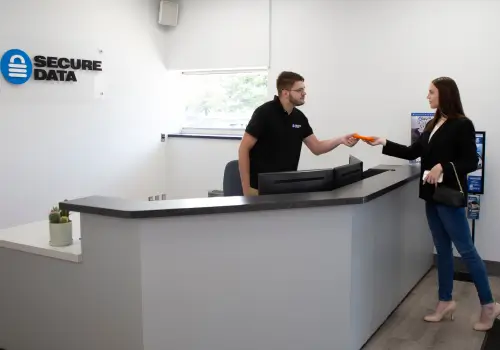 Data Recovery Services in Mississippi - RAID, SSD & Hard Drive Recovery
Through a network of offices in the Southern United States, Secure Data Recovery Services provides Mississippi with dedicated options for hard drive repair, RAID repair and other data recovery services.
Mississippi is home to more than 2.98 million residents, and the state's agriculture has formed the backbone of its economy for well over a century. In recent decades, information technology has provided new sources of revenue, but data loss is a substantial problem for businesses and government offices in Mississippi.
Expert Data Recovery Services
Secure Data Recovery Services is the authority in Hard Drive Recovery, SSD Recovery and RAID Recovery. Since 2007, our data recovery company has helped tens of thousands of individuals and businesses of all sizes successfully recover from every type of data loss scenario. We understand the importance of data in the modern world and with our Economy, Standard and Emergency Data Recovery Options and state-of-the art technology we are ready to get your lost data back right now.
Experience total piece of mind with a "No Data, No Recovery Fee" Guarantee.
What Can We Recover For You Today?
When a computer system fails, Secure Data Recovery Services can rebuild damaged mechanical components and safely repair the affected files, preventing costly data loss. We hold an overall success rate of over 96 percent, and through our regular investments in technology, we have built a dedicated laboratory outfitted to treat all types of digital media.
Some of the advantages of our services:
Service Options for Every Budget
24/7/365 Same-Day Service for Emergency Cases
Options for RAID Repair, Data Tape Repair and More
Risk-Free Standard Media Diagnostics
Member of General Services Administration (GSA) Schedule
Secure Data Recovery Services offers emergency pickup for Mississippi, and our extensive system of offices provides fast treatment for hard drives, solid-state drives, RAID arrays and more. Contact us today to set up a free media evaluation or for more information.
Hard Drive Data Recovery and File Repair for Mississippi
Data recovery is an extremely specialized service, and Secure Data Recovery Services' engineers undergo regular training in order to handle every type of device effectively. We also develop new technologies regularly, and our laboratory is equipped to treat every digital storage media format.
Our engineers can treat virtually any media failure scenario including:
Read/Write Head Failures and Hard Drive Crashes
Electronic Media Issues
File and Firmware Corruption
RAID Rebuild Failures
Accidental File Deletion, Virus Attacks and More
We treat every case as efficiently as possible by creating unique recovery plans. Our engineers perform data recovery procedures in the industry's first certified Class 10 ISO 4 Cleanroom, a special environment designed to facilitate safe hard drive repairs, and draw from years of experience to recover files safely and quickly.
Additionally, we use proprietary file utilities, RAID repair stations and other specialized tools to maintain an outstanding overall success rate of 96 percent. We proudly offer our Mississippi data recovery customers a comprehensive guarantee: if we cannot recover your important data, we will not process a service charge for your case.
Steps to Take When You Cannot Access Important Data
Because data loss often occurs instantaneously, computer users frequently take steps that could endanger their devices. We strongly recommend disconnecting power to any failed computer system. This is particularly important if you notice signs of a mechanical media failure or if you have accidentally deleted important files.
Never attempt to open a storage device to repair or replace components. Modern devices are extremely sensitive to external contamination, and by opening your device outside of a certified Cleanroom, you could cause extensive damage. Contact a professional Mississippi data recovery provider as soon as possible to improve your chances of a successful case result.
Secure Data Recovery Services provides an excellent set of options for Mississippi data recovery and media repair. We maintain the industry's highest success rates, and by regularly investing in our facilities, we are able to deliver fast turnaround times while carefully controlling security. We were the first data recovery provider to earn SSAE 18 Type II SOC-1 security certification, and every case benefits from our exclusive no recovery, no service fee guarantee. To set up a free evaluation or for more information, call us today at 1-800-388-1266.
Secure Data Recovery Process
1
Free
Consultation
Power down the device and call us, 24x7 for a free consultation and quote.
2
Free Professional Diagnostics
Submit your device at one of our locations for a non-destructive evaluation by a data recovery expert.
3
Review &
Decide
Review the diagnostic results and approve the work order at a set price, payable upon success with our "No Data, No Recovery Fee Guarantee".
4
Data Recovery & Return
Submit payment and receive your recovered data on a new external drive.