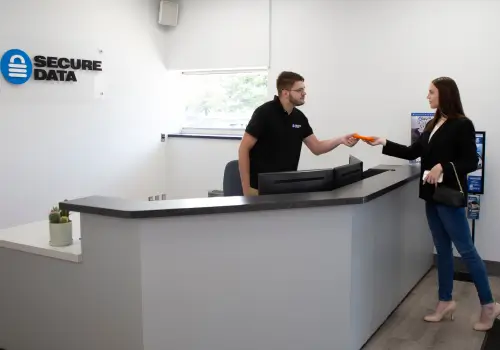 Data Recovery Services in Maine - RAID, SSD & Hard Drive Recovery
Secure Data Recovery Services provides advanced data services for Maine computer users. We specialize in data recovery and media repair, and with offices throughout New England, we deliver fast turnaround times with carefully controlled security.

Thanks to its large ocean border, Maine has prominent shipbuilding and fishing industries, and the state's 1.3 million residents benefit from a strong economy. Computer storage system failures can instantly affect most Maine businesses, leading to significant expenses in some situations.
Expert Data Recovery Services
Secure Data Recovery Services is the authority in Hard Drive Recovery, SSD Recovery and RAID Recovery. Since 2007, our data recovery company has helped tens of thousands of individuals and businesses of all sizes successfully recover from every type of data loss scenario. We understand the importance of data in the modern world and with our Economy, Standard and Emergency Data Recovery Options and state-of-the art technology we are ready to get your lost data back right now.
Experience total piece of mind with a "No Data, No Recovery Fee" Guarantee.
Recovery Services We Offer
Our engineering teams can rebuild physically damaged devices and restore corrupt or deleted files, limiting system downtime in a disaster. Secure Data Recovery Services has options for every device format, and our service options help to control your budget.
Other advantages of our services:
No Recovery, No Fee Guarantee
Independent IT Security Credentials
Online Case Tools and 24/7 Customer Service
An Overall Data Recovery Success Rate of 96 Percent
We offer a completely free diagnostic service for our Maine data recovery customers. By assessing the damage to your device, our engineering teams can give you an accurate price quote along with an overview of available case options. Our emergency service has an average turnaround of less than a day and is available 24/7/365. We even offer pick-up services for our Maine emergency clients.
Call our customer service team today to get started.
Steps to Take When a Hard Drive or Storage Device Fails
Because digital devices are extremely sensitive to external contamination, you should never open a damaged hard drive, solid-state drive or flash device outside of a certified Cleanroom. Do not run data recovery software or attempt repairs.
For the best possible results, turn your computer completely off and disconnect its power supply as soon as you notice failure symptoms. Make a list of any events that might have led to the failure, including any new hardware or software installations.
Some of the most common signs of data loss include:
File Errors and Operating System Failures
Virus or Malicious Software Infection
Visible Electronic Damage
Unusual Error Messages and Frequent System Crashes
File Corruption
Unusual Noises and Clicking Sounds
Because this is not a comprehensive list, you should always exercise caution and disconnect your device if you notice any unusual symptoms. By contacting our customer service team to set up a media evaluation, you can get an accurate price quote and turnaround estimate for your case without taking risks.
The Best Resources Available for Maine Data Recovery
Data recovery technology constantly evolves, and we maintain a fully outfitted laboratory in order to maintain our excellent success rates. Our hard drive repair technology is unequaled; as the first company in our industry with a certified Class 10 ISO 4 Cleanroom, we are qualified to treat any type of digital storage device in a safe and efficient manner.
Secure Data Recovery Services provides Maine businesses with additional options to reduce downtime in a disaster. We provide server repair services along with RAID data recovery, delivering a comprehensive resource with established security. As a member of the General Services Administration (GSA) contractor schedules, we can provide our services for Maine government and military institutions through a simplified purchasing process.
Additionally, we offer a no data, no service fee guarantee for all Maine data recovery cases. This guarantee provides the protection you need to use our services while controlling your expenditures, and because we support every case with SSAE 18 Type II SOC-1 certified security, we can perform media repair and file recovery while completely protecting your privacy. To set up a risk-free device evaluation or for more information, call us today at 1-800-388-1266.
Secure Data Recovery Process
1
Free
Consultation
Power down the device and call us, 24x7 for a free consultation and quote.
2
Free Professional Diagnostics
Submit your device at one of our locations for a non-destructive evaluation by a data recovery expert.
3
Review &
Decide
Review the diagnostic results and approve the work order at a set price, payable upon success with our "No Data, No Recovery Fee Guarantee".
4
Data Recovery & Return
Submit payment and receive your recovered data on a new external drive.