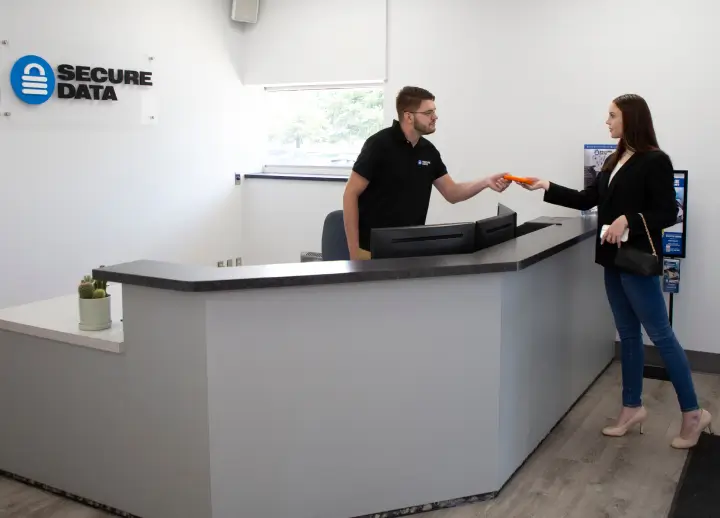 Professional Arkansas Data Recovery and Retrieval Services
With a network of offices in the South, Secure Data Recovery Services provides Arkansas with an excellent resource for hard drive data recovery, RAID repair and other advanced data services. We specialize in media repair, and by maintaining the best laboratory in our industry, we offer a dependable way to recover from virtually any data loss event.
Arkansas is a beautiful state with a distinguished cultural history, and while it was once primarily known for its role in the agricultural industry, it now boasts a fairly diverse economy. Major cities like Little Rock host many of the state's 2.95 million residents.
Expert Data Recovery Services
Secure Data Recovery Services is the authority in Hard Drive Recovery, SSD Recovery and RAID Recovery. Since 2007, our data recovery company has helped tens of thousands of individuals and businesses of all sizes successfully recover from every type of data loss scenario. We understand the importance of data in the modern world and with our Economy, Standard and Emergency Data Recovery Options and state-of-the art technology we are ready to get your lost data back right now.
Experience total piece of mind with a "No Data, No Recovery Fee" Guarantee.
What Can We Recover For You Today?
Because Arkansas computer users depend on hard drives and other digital storage media, sudden disasters are fairly common. A computer crash can have serious consequences, but Secure Data Recovery Services can repair damaged hard drives, RAID arrays and other devices in order to prevent permanent data loss.

Features of our services:
Warranty-Safe Options for All Devices
Case Options Including Same-Day 24/7/365 Emergency Services
A Full Set of Security Credentials
Free Diagnostics for All Types of Systems
Online Case Tools
Secure Data Recovery Services' teams can treat any computer system regardless of size, operating system or other factors. We are one of the only companies with full data tape repair and RAID data recovery options, and each of our services features a no recovery, no service charge guarantee.
When you need to quickly regain access to important files, you need help from the qualified experts at Secure Data Recovery Services. Call us today to get started.
What to Do When Your Computer System Loses Data
While some computer systems have built-in safeguards against data loss, any device can lose information under certain circumstances. By taking immediate action to protect your system, you can improve your chances of a fast, complete recovery.
Some of the most common signs of media failure include:
Clicking, Grinding or Other Unusual Mechanical Sounds
Computer Will Not Recognize Media
Unusual Error Messages and Disappearing Folders
Extremely Long Processing and Loading Times
Burning Odor or Signs of Electronic Damage
RAID Rebuild Failures
If you notice any of these symptoms or if you suddenly lose access to important files, you should immediately shut down your computer system to prevent additional damage from occurring. Seek assistance from a reputable data recovery provider as soon as possible.
Secure Data Recovery Services offers completely risk-free media diagnostics for all types of systems. Our engineers will analyze your device to provide you with a complete report including a price quote and turnaround estimate, and because we treat all sensitive devices in a fully certified Class 10 ISO 4 Cleanroom, we provide a safe set of data loss solutions.
Finding a Qualified Data Recovery Resource in Arkansas
Data recovery companies handle a tremendous amount of sensitive information while performing their services, and at Secure Data Recovery Services, we always protect our clients' data throughout our process. We were the first company in our industry to earn an attestation certification under SSAE 18 Type II SOC-1 standards, and as a GSA contractor, we can also perform Arkansas data recovery services for military institutions and other high-security clients.
Our staff has experience with various file systems and file types. Through regular investments in our state-of-the-art laboratory, we ensure the best possible results with fast turnaround times and an overall success rate of 96 percent.
When your computer fails, you need a fully qualified Arkansas data recovery provider that can repair your device without subjecting your data to unnecessary risks. Secure Data Recovery Services provides a complete solution for both businesses and personal computer users, and thanks to our no recovery, no service fee guarantee, you get extremely dependable results from a trusted industry leader. Call us today at 1-800-388-1266 to set up a risk-free evaluation or for detailed information regarding any of our services.
Secure Data Recovery Process
1
Free
Consultation
Power down the device and call us, 24x7 for a free consultation and quote.
2
Free Professional Diagnostics
Submit your device at one of our locations for a non-destructive evaluation by a data recovery expert.
3
Review &
Decide
Review the diagnostic results and approve the work order at a set price, payable upon success with our "No Data, No Recovery Fee Guarantee".
4
Data Recovery & Return
Submit payment and receive your recovered data on a new external drive.