Key findings
Around 1 in 3 say their digital space is messier than their physical space.
Digital clutter bothers 73% of Americans as much as physical clutter.
Unused apps, old files that need to be deleted, and multiple browser windows are Americans' most common types of digital clutter.
For 46%, half or more of their apps are unimportant and rarely used.
States with the most digital clutter
Between phones and computers, the average American has a lot to keep track of digitally. All over the country, users face an overwhelming abundance of data and information from both their personal and professional lives.
If walking into a messy home sounds exhausting, some Americans get the same feeling just by turning on their digital devices. For 73% of Americans, digital clutter and disorganization is just as frustrating as physical clutter and disorganization in their home.
From overflowing email boxes to cluttered desktops, Americans are constantly juggling with their own virtual chaos. The upkeep is such a task that 1 in 3 say their digital space is messier than their physical space.
Digital clutter may not only impact productivity, but it can also overwhelm the user. Our survey revealed that the top types of digital clutter challenging Americans include unused apps, old files, and multiple windows opened.
The states that struggle most with digital clutter are Michigan, Utah, and Connecticut. With a max score of 100 for the most digital clutter and an average clutter score of 52 across the country, these top states have average scores in the 90s.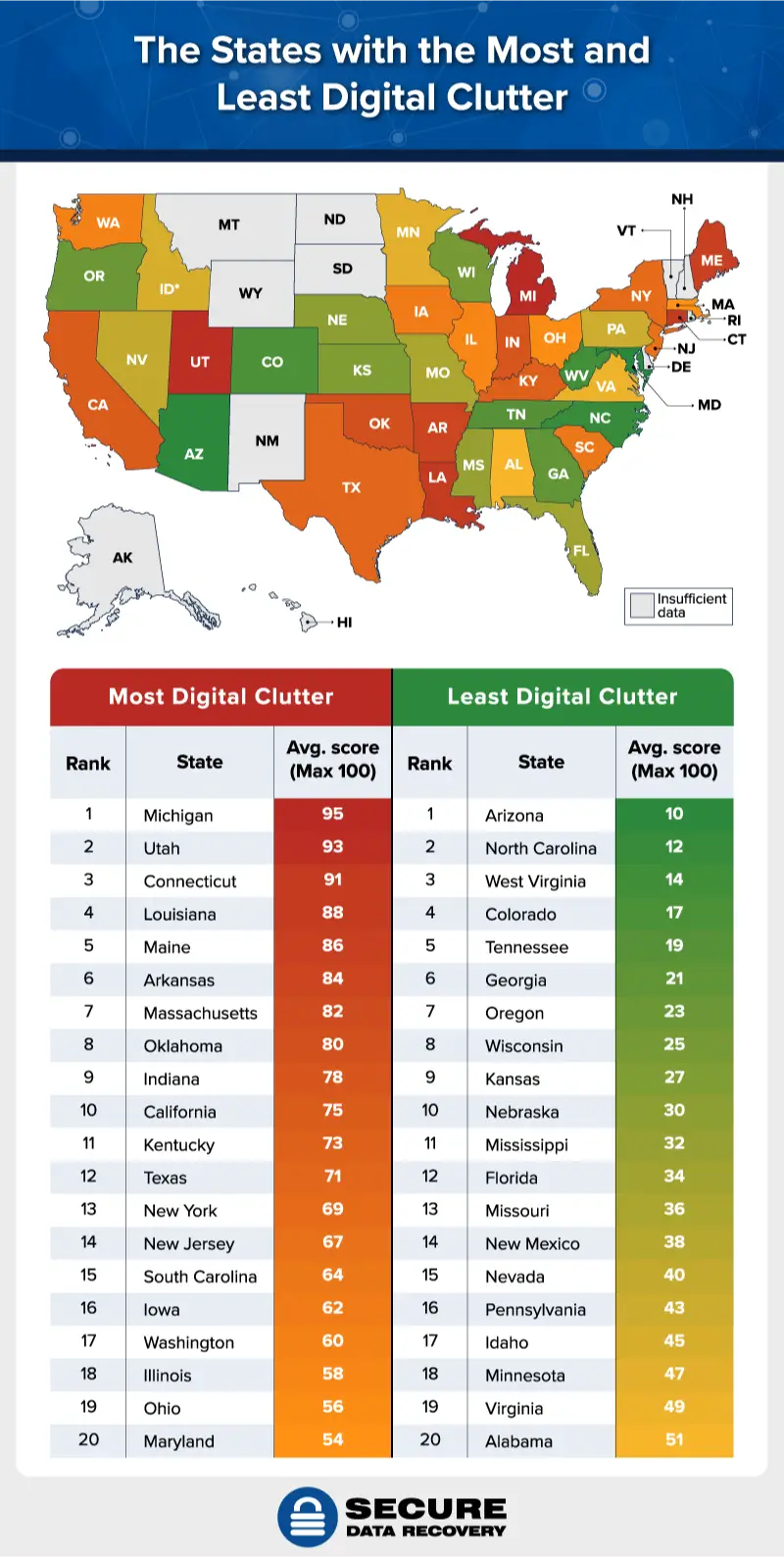 States with the most digital clutter on their computers
Whether it's for work or leisure, many Americans use a computer every day for hours. With so many files going in and out, it can be easy to continually add clutter to your computer, and Americans revealed what type of computer clutter they hold onto the most.
Our respondents say old files that need to be deleted, having multiple windows open, and using software that's not updated is the most common clutter that consumes their computers. During a typical web surfing session, users typically have five or more browser tabs open, according to over half of Americans.
Our survey revealed that Oregon and Maine are tied for the state with the most old files that need to be deleted. Residents in Maine are also most likely to have multiple windows open, and those in Nevada are most likely to use software that's not updated.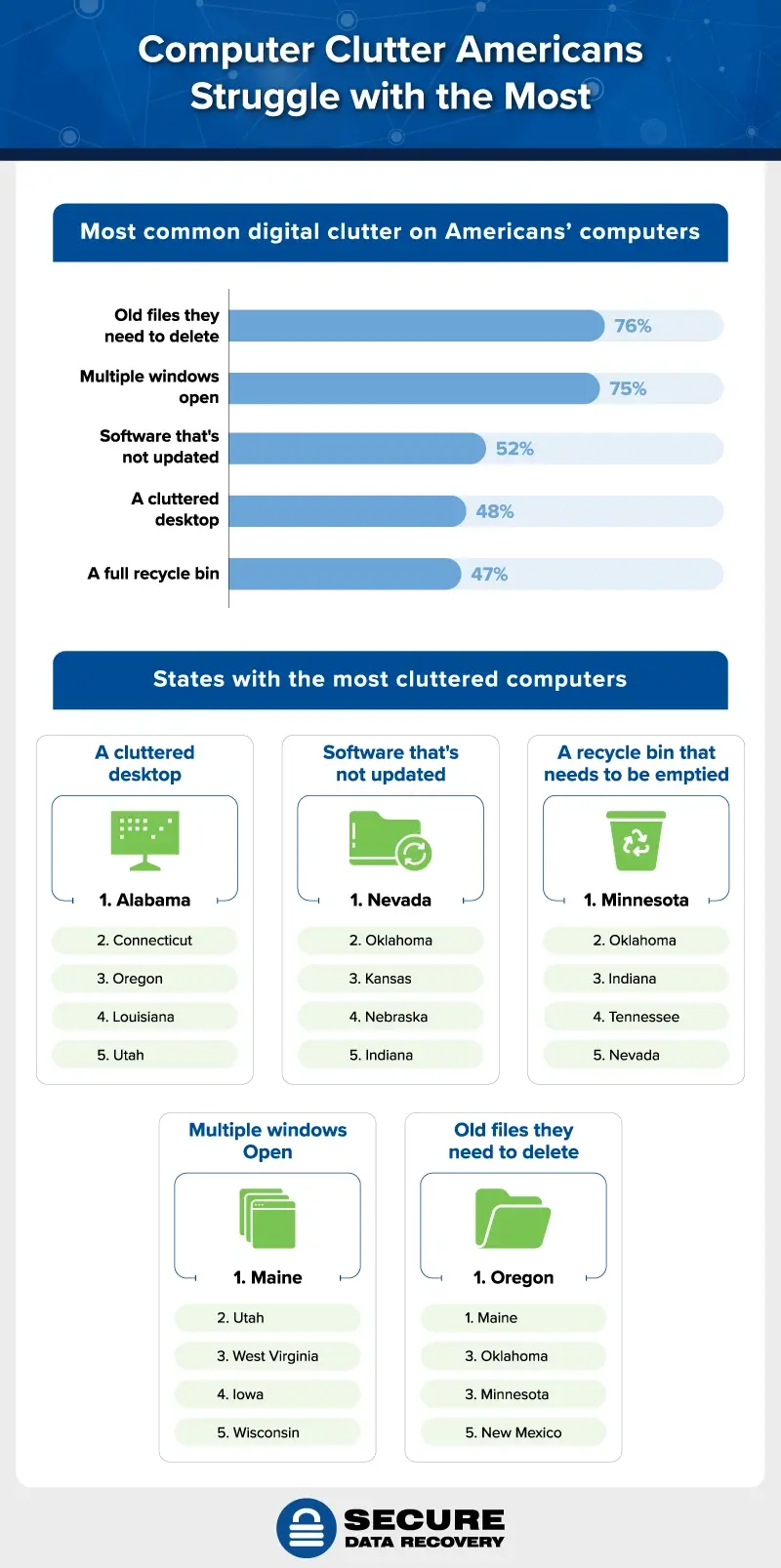 States with the most digital clutter on their phones
Americans are always connected digitally. If they're not on their computers, they're staying connected with their phones. With smartphones holding almost all of the capabilities of a computer, plus more, keeping your phone clear of clutter can take true effort. Not only do you have files to maintain, but you also have your frequent screenshots to keep track of.
The digital clutter Americans struggle with most on their phone are unused apps, screenshots they don't need, and unwanted notifications they don't just turn off. With almost everything requiring the use of an app nowadays, 46% say half or more of their apps are unimportant or rarely used.
Digital clutter can creep into nearly any digital space, even your jam session. Instead of removing songs on their playlist that they no longer want to listen to, 1 in 2 just skip the song every time it comes on.
From too many photos to ignored notifications, people in Arkansas and Connecticut most frequently topped the lists of common digital clutter Americans hold on their phones.

States with the most physical filth on their devices
Just like your home, your devices need some TLC as well, yet Americans report spending a significantly less amount of time cleaning their digital spaces versus their physical ones. According to our respondents, the average American only spends 25 minutes per week cleaning their digital devices, compared to 57 minutes per week cleaning their physical spaces.
Not only do Americans struggle with cleaning their digital lives on their devices, but they also struggle with maintaining the physical aspects of their devices as well. The most common physical damage and filth on Americans' devices are cracks in their screen or screen protector, dust on their devices, crumbs in their keyboard, and physical imperfections like missing keys and dents.
With people snacking throughout their work day and working through lunch, crumbs frequently make their way in American's keyboards. The states most likely to house crumbs in their keyboards are Arkansas, Iowa, and Utah.
Digital clutter is a common burden for Americans in their digital lives. With so many files to keep track of and updates frequently needed, it's easy to fall behind on the upkeep.
If you don't take time to declutter your devices, you probably aren't taking the time to make sure everything is updated, which can really hinder them from running optimally. Making sure your devices are running smoothly can prevent them from developing complications and experiencing data loss.
Fortunately, Secure Data Recovery can help. If you find yourself struggling with data loss, all hope is not lost. Our skilled technicians will work to rescue your data and recover your important files.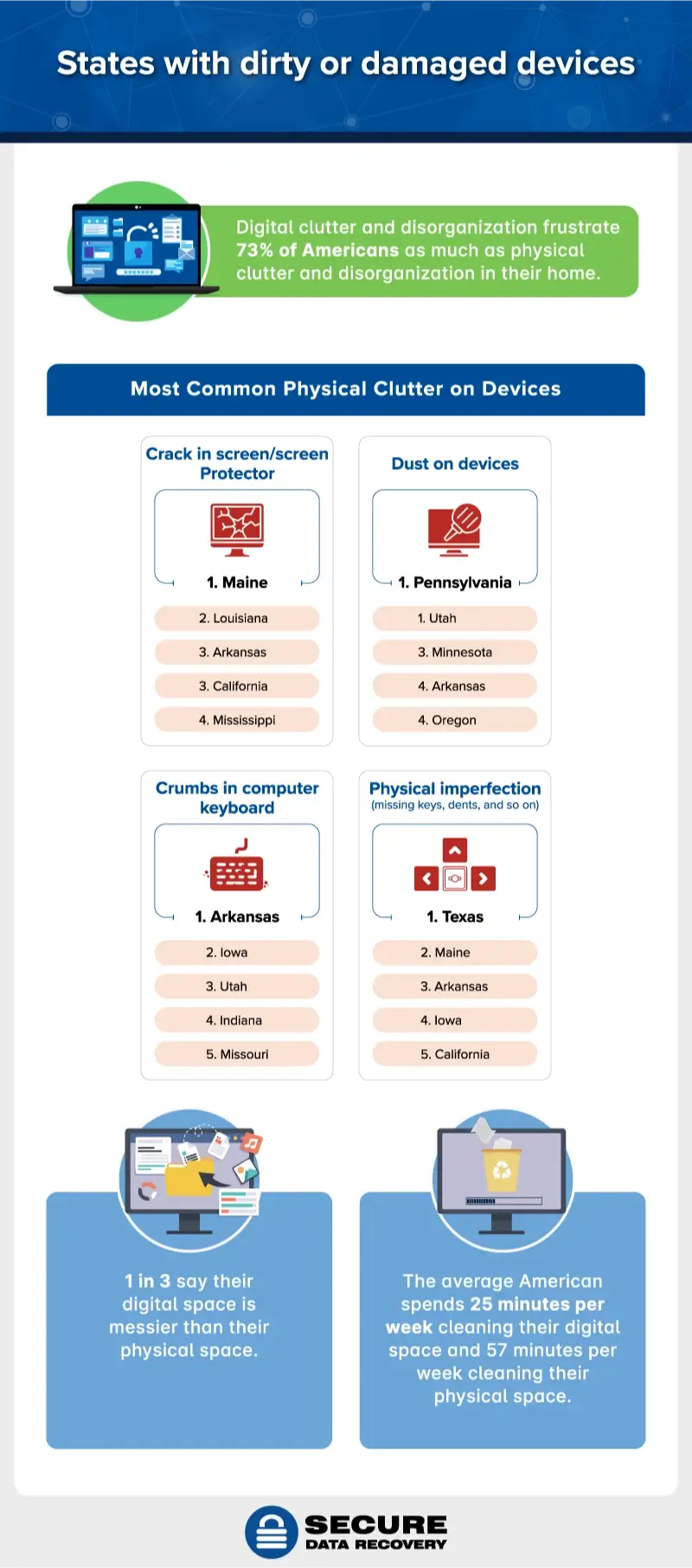 Methodology

On July 14–18, 2023, we surveyed 1,966 people across the United States on the Prolific online research platform, asking about their digital devices. To come up with our rankings, we applied scoring rules to their responses.

Of our respondents, 50% identified as female, 48% as male, and 2% nonbinary. Respondents' ages ranged from 18–77 years old; 12% Gen Z, 46% millennials, 27% Gen X, and 15% baby boomers. We excluded Rhode Island, Hawaii, New Hampshire, Delaware, Vermont, Montana, North Dakota, South Dakota, Alaska, and Wyoming from our study due to insufficient data.

;