To uncover the extent of this digital epidemic, we conducted an analysis of search trends across all 50 states to pinpoint the areas where people are most susceptible to scams.
Key Findings
Colorado, Maryland, and Virginia are the states most affected by spam and scams.
The top 5 brands most frequently associated with scams are Facebook, PayPal, Cash App, Amazon, and Geek Squad.
The state most affected by spam texts from unfamiliar area codes is Hawaii.
New Hampshire is most vulnerable to online shopping scams.
Wyoming is the state that struggles most with romance scams.
The States Most Vulnerable to Scams
As much as we may hate to admit it, spam and scams are a ubiquitous issue that plagues every state in the U.S. However, according to our data, Colorado takes the dubious honor of being the state with the highest frequency of pesky scams. Hot on their heels are Maryland and Virginia, which share a similarly unenviable distinction.
What's more, these three states are not only high on the list for spam and scam incidents, but they also boast median household incomes that exceed the national average of $69,717. Maryland takes the lead here with a median household income of $90,129, while Colorado and Virginia trail close behind with $82,228 and $80,926, respectively.
While we cannot say for certain if there is a direct correlation between higher incomes and digital scams, states with higher median incomes may be more attractive targets for scammers as people with higher incomes could have more assets to prey on.
In regard to taking action against fraud, California stands out from the pack. Californians search for the phrase "report fraud to police" significantly more often than residents of other states. It's clear that Californians aren't content to sit idly by while scammers run amok.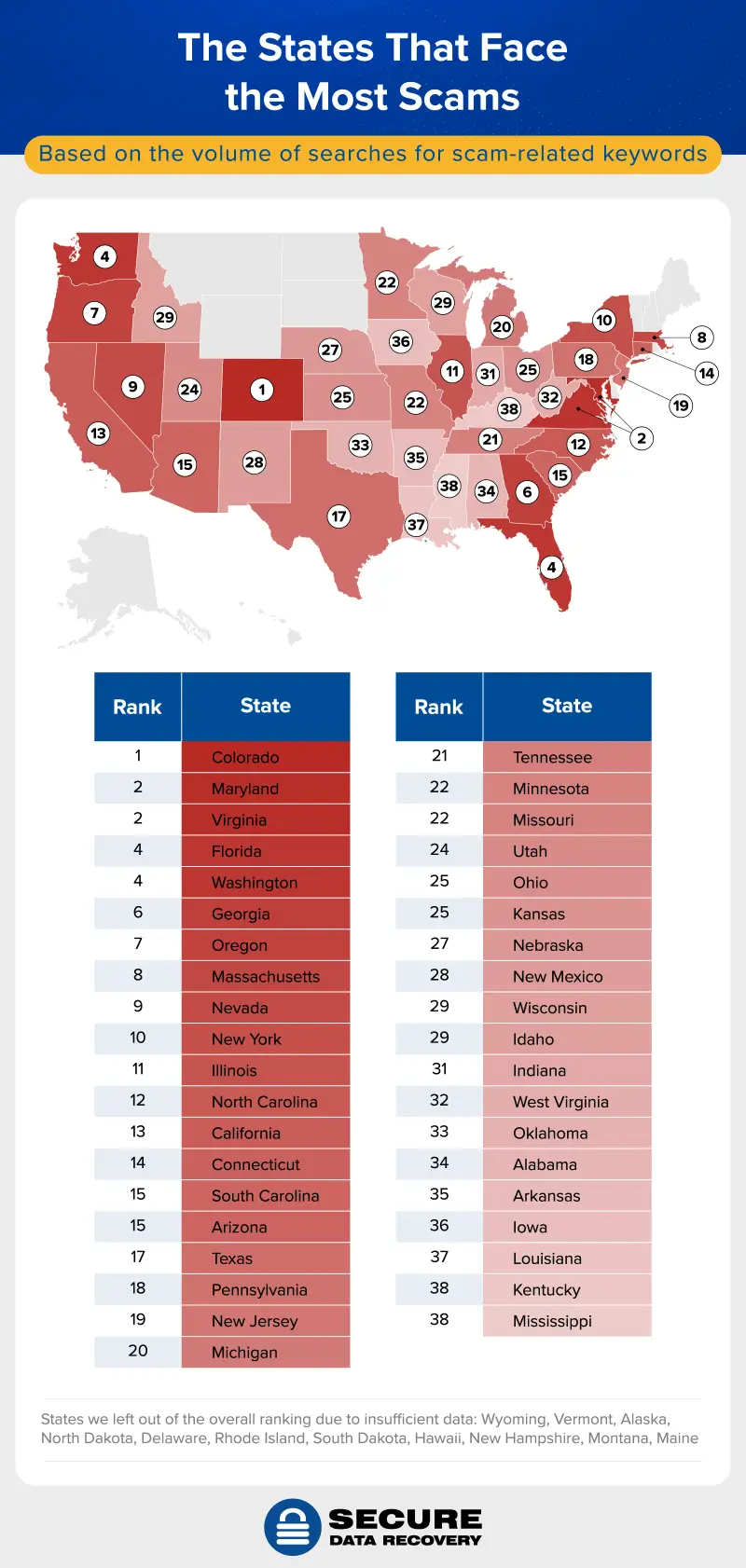 Have You Ever Been Scammed by These Popular "Brands"?
Scammers often pose as well-known brands to trick people into providing their personal information. When it comes to the brands most frequently mentioned in scam-related searches, Facebook tops the list. According to our research, Facebook is mentioned in scam-related searches in 18 different states. PayPal, Cash App, Amazon, and Geek Squad round out the top five.
Scammers seem to have a particular affinity for mentioning the mobile payment app, Cash App, in 15 different states when attempting to fleece people. Alabama, Louisiana, and Mississippi have significantly more searches related to Cash App scams than the national average, with fraudsters using fake transactions to trick people out of their hard-earned cash.
However, Delaware and Illinois have notably lower search volumes for scams compared to the national average, indicating that they may face fewer scams or know how to navigate them on their own.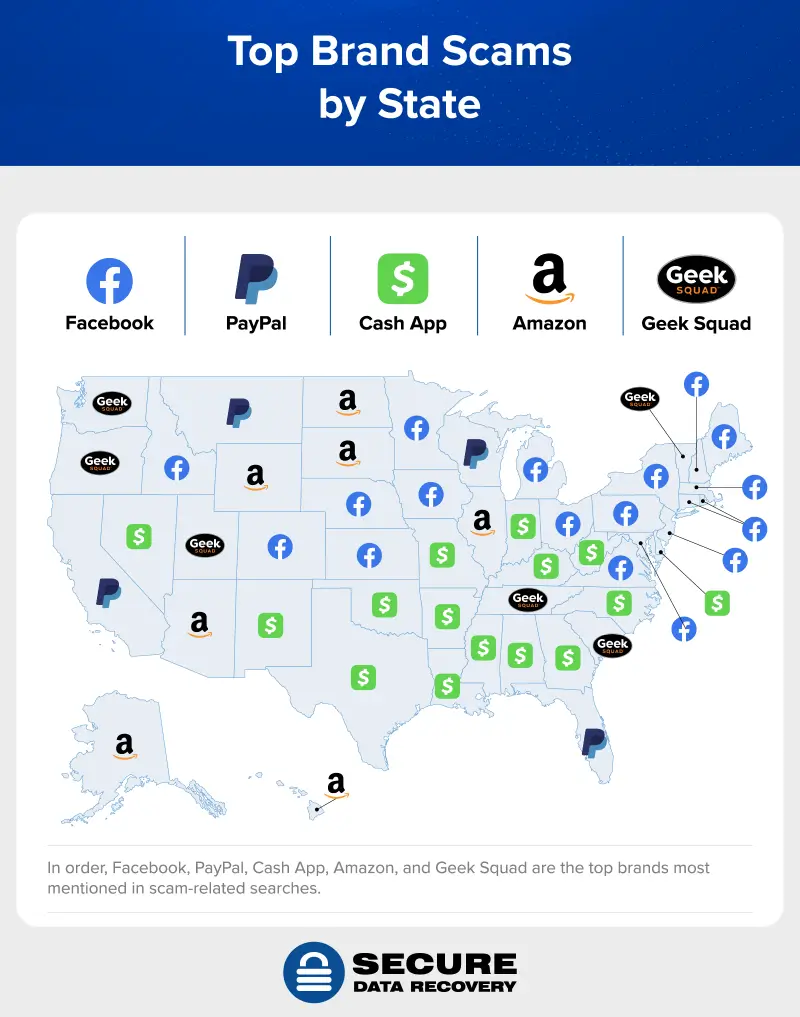 Alexa, Search 786 Area Code
Scammers may spoof local phone numbers to make them seem more believable or create fake phone numbers to hide their real identity. A simple Google search for "786 area code text message," "809 area code," and "876 area code" reveals that scammers are posing as South Floridians (786), Bahamians (809), and Jamacians (876) to perpetuate common scams. These area codes have become synonymous with scam calls and texts, with online forums inundated with users seeking help with spam messages from these digits.
Hawaii is also feeling the heat of spam texts and calls from unfamiliar area codes, with a rate that is 135% higher than the national average. This means that residents of Hawaii are more likely to receive unwanted texts and calls from unfamiliar area codes, which may be associated with scams or fraud.
But don't think Hawaii is alone in the battle against this type of digital nuisance. Florida, the state with the second highest search volume for these area codes (115%), has a large retiree population, which is a common target for scams.
Shop 'til You're — Scammed?
Watch out, online shoppers! If you're a resident of New Hampshire, you're at a 43% higher risk of being targeted by shopping scams than folks in other states. Interestingly, the top 3 states affected by shopping scams all have higher than average median incomes. So residents of New Hampshire ($88,268), Massachusetts ($89,577), and Vermont ($72,415) may be potential targets for scammers looking to exploit those with disposable income.
But it's not just residents of these states who are at risk. Across the U.S., searches for terms like "Amazon scam email," "Facebook marketplace scams," and "Poshmark scams" are on the rise. While online marketplaces like Facebook Marketplace, Poshmark, and Mercari increase in popularity, so does the need for staying alert and taking precautions to protect yourself and your hard-earned cash.
States That Should Pause Before Swiping Right
Wyoming residents need to be wary when it comes to online dating as the state tops the list of those most affected by dating scams. With a shocking 160% higher search rate than the national average, Wyomingites are actively searching to see if they've been contacted by someone attempting to make them the victim of a romance scam.
Vermont is the state second most affected by online dating scams. With a median age of 42.8, their aging population may be more vulnerable to online dating scams. According to the Federal Trade Commission, scammers often target older adults on these apps due to their increased vulnerability.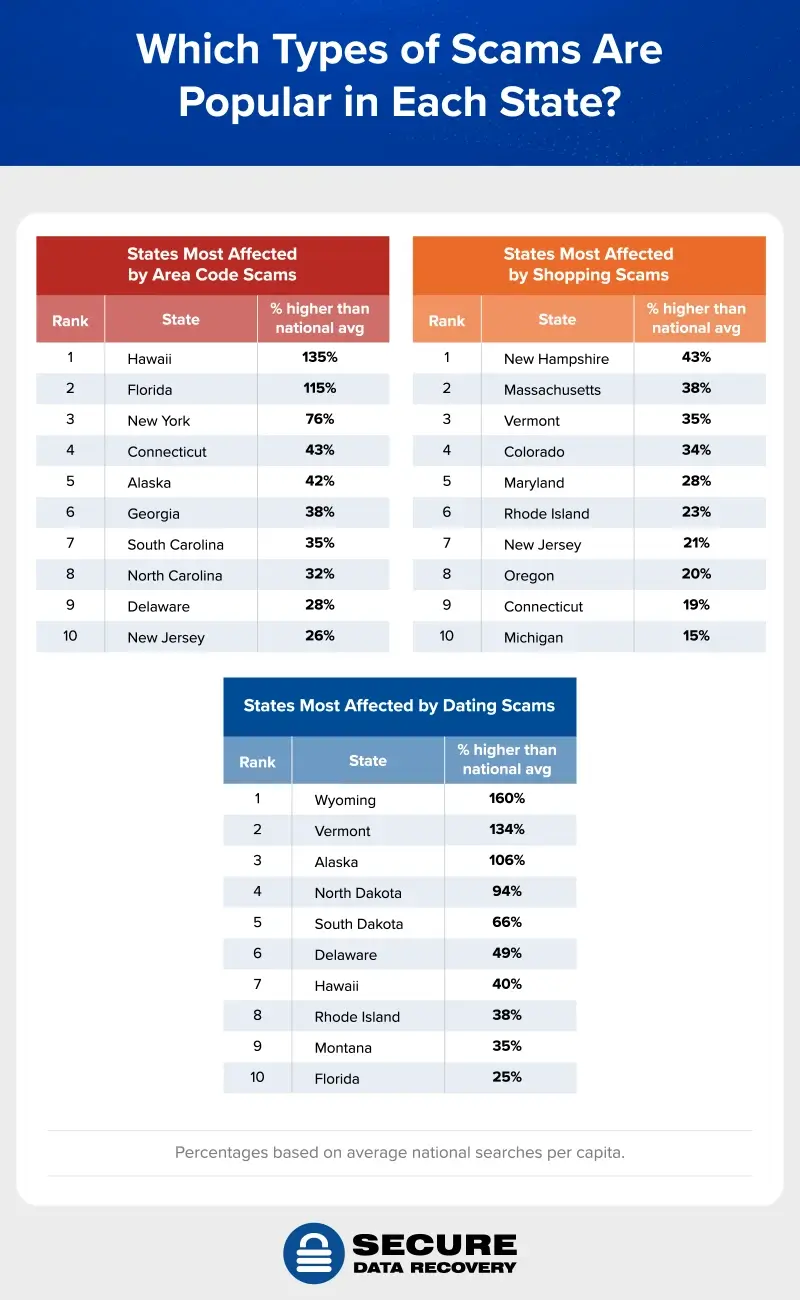 Conclusion
The digital world we live in today is fraught with dangers, and it's no secret that spam and scams are a widespread issue affecting individuals across the country. But instead of unplugging yourself from all things online, take steps to protect yourself and your personal information from these threats.
At Secure Data Recovery, we understand the importance of safeguarding your sensitive information. Whether you're dealing with spam texts, robocalls, or phishing scams, we're here to help and provide support by helping you take proactive measures to back up data and encrypt important information. Trust us to be your partner in all types of data recovery, including hard drive recovery, to help you keep your important files safe.
Methodology
We researched the most common spam and scams Americans face to compile a list of 150 scam-related search terms (we trudged through each and every search term to make our list as precise as possible, deleting keywords like "spam recipes"). Once we had our list, we analyzed Google search trend data in all 50 states to reveal where people are struggling most with spam and scams, and in the process, uncovered that area code scams, shopping scams, and dating scams are uniquely problematic to Americans.
States we left out of the overall ranking due to insufficient data: Wyoming, Vermont, Alaska, North Dakota, Delaware, Rhode Island, South Dakota, Hawaii, New Hampshire, Montana, Maine