The good news is, sometimes our devices and their data are recoverable. We allow you to protect, back up, and retrieve data from damaged devices that are central to our lives. But which devices are the most damaged and who are the biggest offenders? Our team conducted a study across the United States of over 2,200 respondents to find out which parts of the United States are the most reckless with their devices.
Key findings
Texas, Missouri, and Oklahoma are the states most likely to have had to replace a phone due to breaking it.
When it comes to dropped phones, 44% of Americans do it at least once a week.
Bathrooms are a particular issue for 23% of Americans who have dropped their phone in the toilet.
Concerning data loss, 31% of Americans have broken a phone and completely lost the data it contained.
States that break, crack, and drop their phones the most
Even though our phones are our main window of communication, they are all too easy to break. In fact, over 3 in 4 Americans (76%) have had to replace a phone due to breaking it. However, the cost is not just the price of a new phone: 31% have broken a phone and completely lost the data it contained.
We sought to determine how many people in each state have had to replace a phone due to breaking it. The states at the top of the list include Texas (95%), Missouri (88%), and Oklahoma (88%).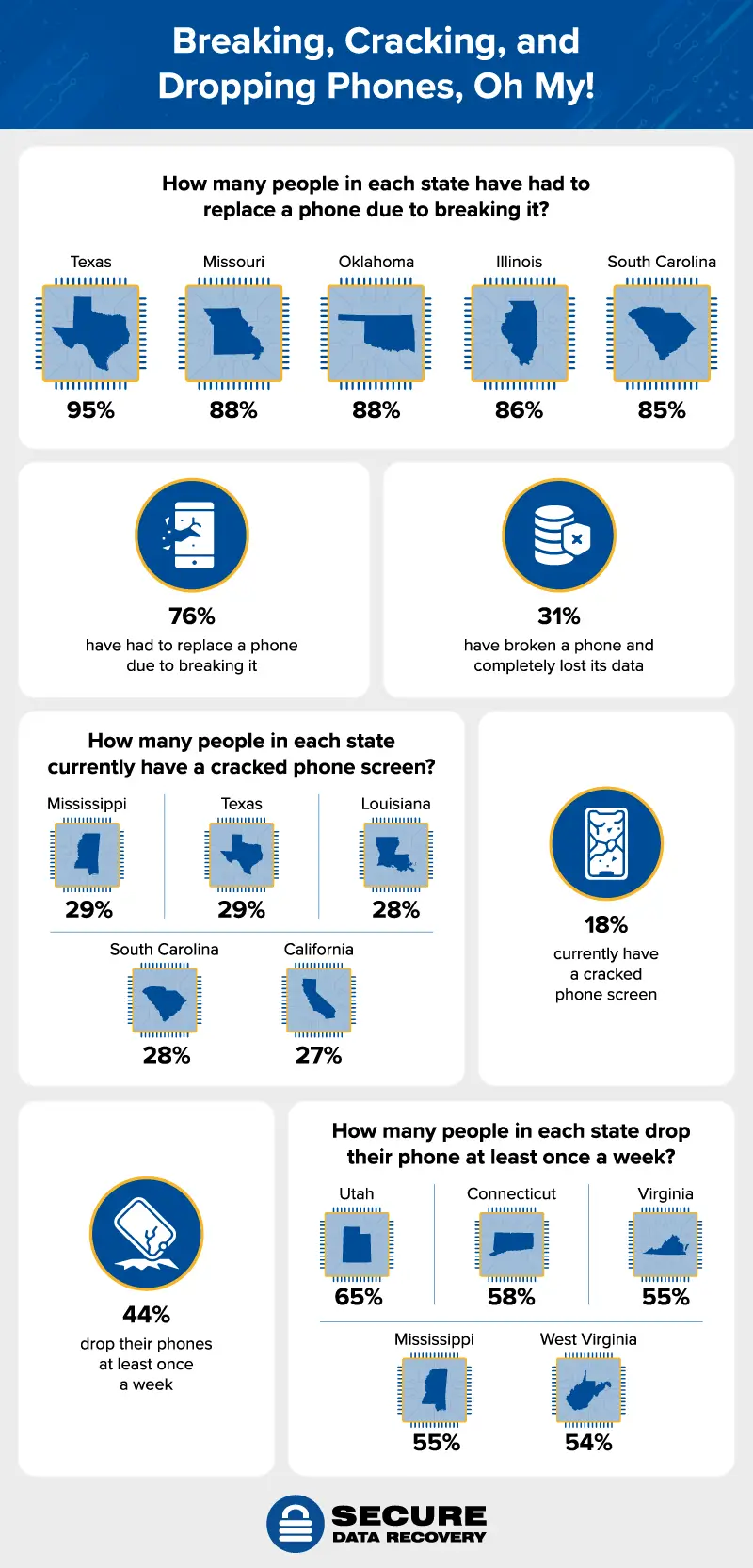 Sometimes, we get lucky, and an instance that should have rendered our phone unusable merely cracks the screen. Having a cracked phone screen is a common experience — in fact, 18% of Americans currently have one. Of these, nearly 1 in 4 (24%) of members of Generation Z have a cracked phone screen at the moment.
In some states, you are more likely to come across cracked phone screens than in others. For example, 29% of those surveyed in both Texas and Mississippi currently have cracked phones. The same is true for 28% of respondents in both Louisiana and South Carolina.
Often, the way we break or crack a phone is by handling it recklessly and dropping it. We asked respondents how often they drop their phones, and 44% reported that they do it at least once a week. Women are more likely to (53%) than men (32%), and again, Gen Z is significantly more likely to than the national average (59%).
How many people in each state drop their phones at least once a week? Winning states included Utah (65%) and Connecticut (58%).
The most common phone mishaps
We asked about common mishaps that can happen with your phone. For example, 75% have cracked a phone screen. Other common mishaps include throwing it by accident (46%) and spilling a drink on it (43%).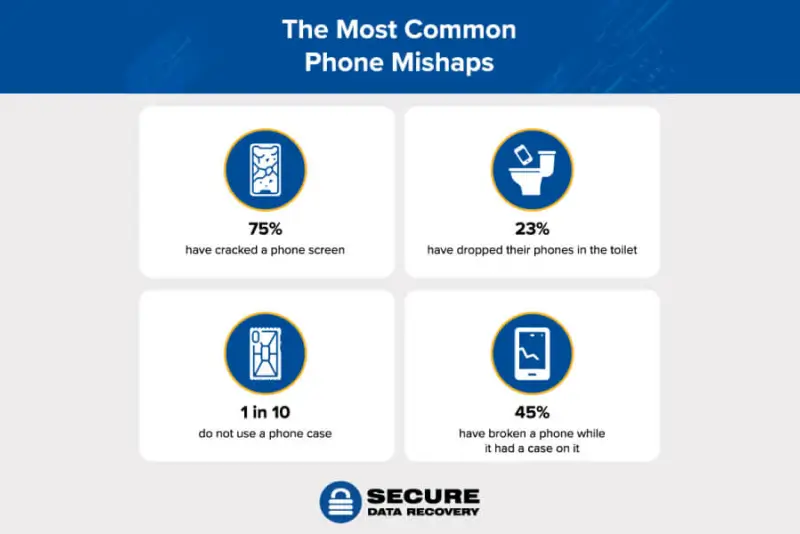 A surprising 23% of Americans have dropped their phone in the toilet. Water damage is common, as indicated by the fact that 44% have put their phone in rice to help with water damage. Unfortunately, of those, it only worked 60% of the time.
Not using a phone case is also more common than expected, especially since 1 in 10 Americans admitted to accidentally leaving their phone on top of a car. Over 10% don't use phone cases, even though 45% have broken a phone while it had a case on it.
What does all of this damage cost? According to our survey, Americans have spent an average of $617 on phone repairs in their lifetime. Most Americans (59%) pay for phone damage out of pocket since they do not have a warranty.
States that break their laptops the most
Besides smartphones, personal computers or laptops are often the central pieces of technology in our lives. We use them for work, school, and entertainment, and we often rely on their large storage capacity to retain our precious memories, which is why laptop data recovery is just as important.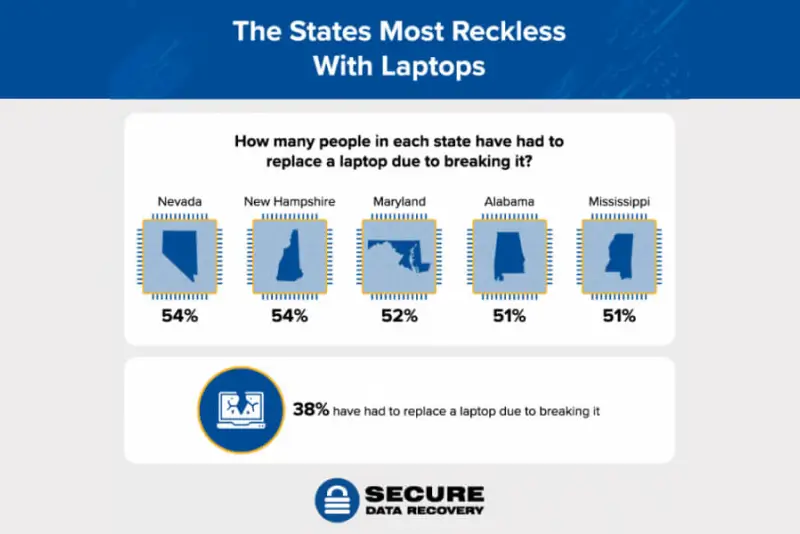 Unfortunately, we are prone to breaking laptops too. In fact, 38% have had to replace a laptop due to breaking it in their lifetime. The states that are most likely to have broken a laptop beyond repair are Nevada (54%), New Hampshire (54%), Maryland (52%), Alabama (51%), and Mississippi (51%).
The most common laptop mishaps
Despite laptops being expensive, and for many of us, vital to doing our work, we are likely to experience some mishaps with them, too. Some of the most common laptop mishaps include dropping it (46%), spilling a drink on it (33%), and spilling food on it (30%).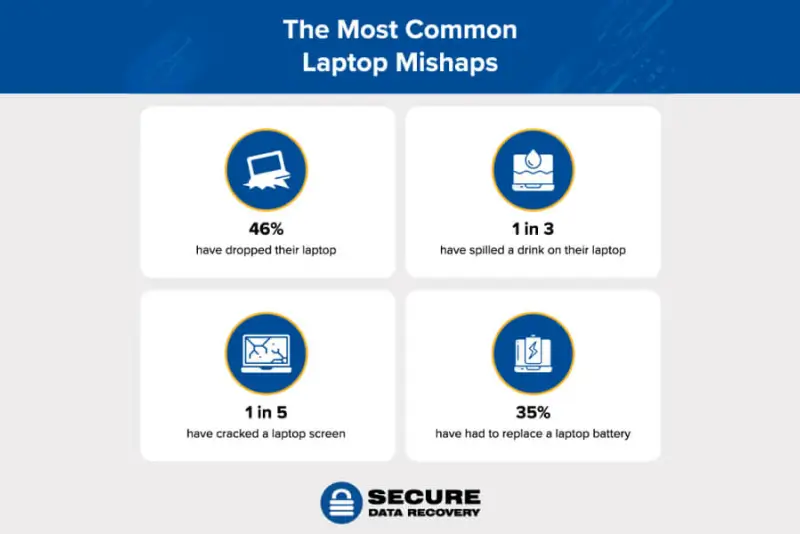 Cracking a laptop screen is more challenging than cracking a phone screen, but that has not stopped 20% of Americans from doing it. Laptop batteries also notoriously require replacement, with 35% of Americans having to do so.
When it comes to cost, Americans have spent an average of $534 on laptop repairs in their lifetime. They are more likely to have warranties on them, however: Only 37% of Americans pay for laptop damage out of pocket.
The funniest ways Americans damage their devices
We asked our respondents: What is the weirdest or funniest way you've broken or damaged a device? Here are some of the standout responses:
Spilled coffee on it
Washing machine
Biting it
Shut a pen in a laptop and cracked the screen
While shoveling snow I dropped my phone and hit it with the shovel.
Went to swimming class and swam with it
Baked in the oven
Guinea pig peed on my laptop keyboard and fried the hard drive
Child decided that my phone was thirsty
Dropped a phone from balcony by sneezing
A bug landed on my arm and I threw my phone in my hand to the ground.
Accidentally dipping it in stew while cooking
Dropped a phone in the toilet, panicked, and rinsed it off in water…further damaging it
Accidentally dropped it in a tub of sour cream and clogged the speakers and charging port.
Baby drool
A moose hit me while I was bicycling (I live in Alaska).
Dropped it in the toilet, and then my phone started playing Kanye West while it was underwater
The world is a dangerous place for our devices — and for our data. Learn how Secure Data Recovery can help protect and recover your data, even if you dropped your phone in stew!
Methodology: From August 31 to September 9, 2022, we surveyed 2,213 Americans on their experiences breaking their devices. Our respondents were 44% men, 53% women, and 3% nonbinary or preferred not to say. The generational breakdown includes 10% Baby Boomers, 22% Gen X, 48% Millennials, and 20% Gen Z.
Due to insufficient survey responses, local results do not include the following states: Alaska, Delaware, Hawaii, Idaho, Montana, New Hampshire, North Dakota, South Dakota, Vermont, and Wyoming.