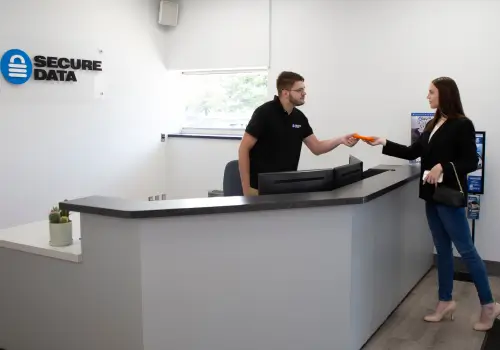 Data Recovery Services in Kansas - RAID, SSD & Hard Drive Recovery
Secure Data Recovery Services provides hard drive repair, RAID repair, file repair, data tape conversion, and other advanced data recovery services in Kansas through our office in Kansas City. Our specialists can safely restore any digital system to a working condition, limiting your down time when data loss occurs, and we use dedicated security systems to keep your files safe throughout the process.

Kansas is a geographically diverse state with a population of more than 2.8 million, and while it has a history as an agricultural producer, its strong energy industry has allowed for significant growth over the past decade. Through our Kansas City office, we offer advanced services for clients in a variety of industries as well as personal computer users.
Expert Data Recovery Services
Secure Data Recovery Services is the authority in Hard Drive Recovery, SSD Recovery and RAID Recovery. Since 2007, our data recovery company has helped tens of thousands of individuals and businesses of all sizes successfully recover from every type of data loss scenario. We understand the importance of data in the modern world and with our Economy, Standard and Emergency Data Recovery Options and state-of-the art technology we are ready to get your lost data back right now.
Experience total piece of mind with a "No Data, No Recovery Fee" Guarantee.
Recovery Services We Offer
Some of the advantages of working with Secure Data Recovery Services include:
Advanced technology and a 96 percent success rate
Support for all digital devices and operating systems
24-hour customer support and online case tools
Specialized options for RAID data recovery and repair
24/7/365 same-day emergency services
At Secure Data Recovery Services, we specialize in data recovery. We operate a network of offices across the United States and provide a diverse set of services for all types of digital devices, including hard drives, RAID servers, virtual servers, solid-state drives, data tape archives, and much more.
We proudly offer free diagnostics and data recovery services in Kansas through our Kansas City office. By sending your media to us, you can receive a free quote and turnaround estimate. We also provide a no-recovery, no-fee guarantee with every case, regardless of the failure scenario or the size of the requested files.
Advanced Data Recovery Technology with Certified Security
Secure Data Recovery Services operates at the forefront of the data recovery industry. Our research and development department regularly researches new technologies in order to treat new cases effectively, and our overall success rate is an outstanding 96 percent.
Our tools include a certified Class 10 ISO 4 Cleanroom, which is a controlled, safe environment that protects media during repairs. Secure Data Recovery Services also has specialized tools designed to facilitate safe hardware repairs for hard drives, RAID arrays and other sensitive systems, and our teams have decades of combined experience with various operating systems and file systems.
Security is an important factor in the data recovery process, and we invest heavily in state-of-the-art controls in order to protect our Kansas data recovery clients' confidentiality. We were the first data recovery provider in the United States to earn SSAE 18 Type II certification, and with a full set of security credentials, we are uniquely qualified to handle high-priority cases for our Kansas clients.
What to Do When a Digital Storage Device Fails
Data recovery companies need access to advanced tools in order to safely recover data. Because we invest heavily in our technology, our teams can treat virtually any type of digital device failure. We offer several service options for Kansas data recovery clients, including our award-winning 24/7/365 emergency services.
Some of the most common failure scenarios that we encounter include:
Read/Write Head Failures and Other Mechanical Hard Drive Issues
RAID Rebuild Failures
Accidental File Deletion
Damage from Viruses and Malicious Programs
Fire Damage, Water Damage and More
When data loss occurs, it is important to minimize damage by any means possible. Mechanical devices such as hard drives and data tapes can take serious damage in a matter of seconds when operating in a failed state, and in order to prevent permanent damage, we strongly recommend turning your device off as soon as you notice signs of a failure.
You should never attempt to recover your own data, especially if you cannot definitively identify the source of the failure. Contact our hard drive data recovery team as soon as possible to set up a media evaluation. We offer free diagnostics, best-in-class security and the highest success rates available anywhere.
Secure Data Recovery Services delivers fast media recovery and repair for Kansas through a local office in Kansas City. For many years, we have maintained excellent standards for our Kansas data recovery services, and our teams treat every case as effectively as possible. With next-generation technology and perfect security controls, we offer reliable options for hard drives, RAID arrays, USB flash drives and dozens of other types of devices. To get started or for more information, call us today at 1-800-388-1266.
Secure Data Recovery Process
1
Free
Consultation
Power down the device and call us, 24x7 for a free consultation and quote.
2
Free Professional Diagnostics
Submit your device at one of our locations for a non-destructive evaluation by a data recovery expert.
3
Review &
Decide
Review the diagnostic results and approve the work order at a set price, payable upon success with our "No Data, No Recovery Fee Guarantee".
4
Data Recovery & Return
Submit payment and receive your recovered data on a new external drive.