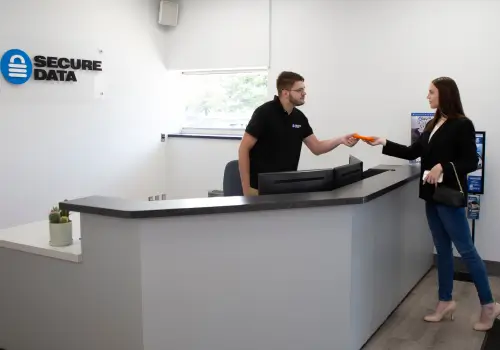 Data Recovery Services in North Carolina - RAID, SSD & Hard Drive Recovery
Secure Data Recovery Services provides professional data repair and data recovery services in North Carolina through our state-of-the-art facilities in Charlotte and Raleigh. As a worldwide leader in data repair, we have treated hundreds of damaged hard drives, failed RAID arrays and other storage devices for North Carolina computer users over many years.
Our Service Centers
Greater Charlotte Area
Greater Raleigh-Durham Area
North Carolina is famous for its varied climate and its active, growing economy. As the state's largest metropolitan centers, Raleigh and Charlotte, are two of the nation's fast-growing cities, and we proudly provide data recovery services to computer users through local offices in these towns.
Expert Data Recovery Services
Secure Data Recovery Services is the authority in Hard Drive Recovery, SSD Recovery and RAID Recovery. Since 2007, our data recovery company has helped tens of thousands of individuals and businesses of all sizes successfully recover from every type of data loss scenario. We understand the importance of data in the modern world and with our Economy, Standard and Emergency Data Recovery Options and state-of-the art technology we are ready to get your lost data back right now.
Experience total piece of mind with a "No Data, No Recovery Fee" Guarantee.
Recovery Services We Offer
We work hard to be your top choice for hard drive data recovery assistance when you need answers quickly. We offer online resources along with certified professional staff ready to answer questions and provide you with a free quote. Before turning to other hard drive repair services in North Carolina, consider the advantages that we have to offer.
Advantages of Secure Data Recovery Services in North Carolina:
No recovery, no charge guarantee for all data recovery cases
Free data recovery price quotes and turnaround estimates
Multiple service options and 24/7 emergency data recovery
North Carolina's most advanced data repair facilities
Experienced engineers and a 96 percent success rate
SSAE 18 Type II certified security systems
RAID repair and other RAID services
Online case tools, local pick-up, and more
With an established reputation as a leader in hard drive data recovery, Secure Data Recovery Services has the technology and expertise to help with RAID data recovery and help you restore your missing data quickly and safely. We have our 24/7 emergency contact information available throughout North Carolina. Hard drive data recovery assistance is handled by certified specialists. Quickly get the information you need by going online or calling our customer service team today to start your case.
What to Do When Your Digital Storage Devices Fail
Hard drives, RAID arrays and other storage devices can lose data without any warning whatsoever. You should always take appropriate steps to protect your device from accidental damage, as the chances of a successful recovery decrease substantially when a digital device continues to operate after an initial failure.
Turn off your media as soon as you notice symptoms and never attempt to open or operate a damaged digital device. Do not run data recovery software or file utilities on your system.
Some of the most common warning signs of data loss include:
Unusual noises including clicking, grinding or whirring
Error messages indicating unreadable files
Disappearing files and folders
Operating system will not load
Accidental deletion or formatting
Computer does not show attached media in BIOS
Visible damage to electronics or other components
While this is not a complete list of potential failure symptoms, you should treat these warning signs seriously. Turn your computer off and contact Secure Data Recovery Services to set up an evaluation at our Raleigh or Charlotte facility.
Our specialists can quickly determine whether your device has recoverable data, providing you with a risk-free estimate that you can use to make an appropriate disaster recovery plan. If you decide to use our services after receiving your estimate, we offer flexible turnaround options to help you regain access to your data as quickly as possible. Our 24/7/365 emergency services offer an outstanding average completion time of less than 48 hours.
Choosing a Data Recovery Provider in North Carolina
You need a certified, capable data recovery provider that can quickly restore your mission critical files. Secure Data Recovery Services' engineering teams have decades of combined experience with every operating system and file type, and through our regular investments in next-generation technology, we have established North Carolina's most well-outfitted hard drive data recovery facilities.
We comply fully with all privacy laws including HIPAA, PCI-DSS and FERPA, and our laboratory contains specialized tools that allow for an incredible success rate of 96 percent. Unlike other providers, we also offer an extensive series of specialized media services including data tape repair to do everything possible to recover data. North Carolina computer users state-wide know they can trust us to provide the very best service at competitive pricing.
Our engineering teams can treat virtually any media failure, regardless of operating system or file system, and we ensure safe, reliable results with best-in-class security credentials for our clients in North Carolina. RAID 5 data recovery and hard drive repair are just a few of the services we offer. If you're in need of these services, set up a risk-free data recovery evaluation at one of our North Carolina facilities to see why businesses choose Secure Data Recovery Services.
Secure Data Recovery Process
1
Free
Consultation
Power down the device and call us, 24x7 for a free consultation and quote.
2
Free Professional Diagnostics
Submit your device at one of our locations for a non-destructive evaluation by a data recovery expert.
3
Review &
Decide
Review the diagnostic results and approve the work order at a set price, payable upon success with our "No Data, No Recovery Fee Guarantee".
4
Data Recovery & Return
Submit payment and receive your recovered data on a new external drive.